COCONUT MILK BENEFITS FOR THE HAIR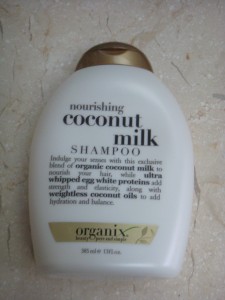 As we all know coconut milk contains proteins, which strengthens and moisturises the hair and help to minimise breakage. It also has properties which protect hair and scalp from UV rays. I have been looking for a coconut milk-based shampoo to replace the former Palmer's Coconut Milk Shampoo since I moved to another city. My hair is dry due to constant dyeing and rebonding and needs quality shampoo that gives it continual hydration, so I strongly believe that one containing coconut milk as one of its ingredients will be the answer.
During one of my shopping expeditions, I came across Organix Coconut Milk Shampoo in the supermarket and decided to give it a try. I have been using Organix Coconut Milk Shampoo for a month now and it has added noticeable lustre to my dry and dull hair. It costs AU $15.99 in a 13 fluid ounce bottle, a reasonable price for a middle-end shampoo. Organix Coconut Shampoo has organic coconut milk to nourish the hair, whipped egg whites to strengthen and coconut oils for hydration. It is also sulfate free meaning it does not contain any Sodium Laurel Sulfate which is a chemical that induces the creation of lather which is believed to cause cancer. Despite this, the shampoo still produces sufficient lather from a small amount of shampoo squirted from the bottle.
The shampoo has a subtle fragrance of coconut milk and leaves the hair feeling soft and looking silky. It is worth its price and I'm satisfied with the results.
You can also try this home remedy for promoting hair growth and improving silkiness. Pour coconut milk into a small plastic jug with a spout that eases the pouring of the fluid onto the scalp. Massage coconut milk to the scalp well so that the coconut milk reaches the roots of your hair. For a soothing effect, chill the can of coconut milk in the fridge before the treatment. You will see positive results after 2 to 3 treatments.