MUSHROOM And GARLIC RISOTTO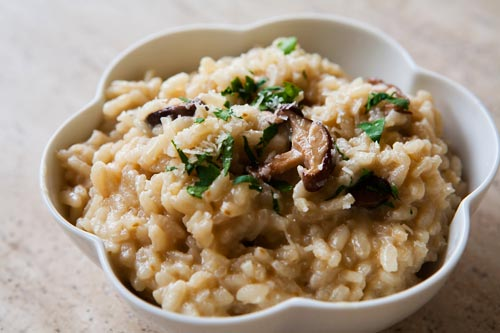 Cheese and rice may not be ideal to be eaten together but when it comes to risotto, they click handsomely. I had tantalising risotto at Lizotte's last Sunday and I still think it was a good vegetarian choice. Not that I'm a vegetarian but that particular dish was just wholesome and flavourful for any vegetarian palette for meatless days.
I got hold of a recipe and as usual the creative chef side of me has made changes to suit my taste and style so it is quick and easy to prepare. My buzz word is fuss free using 5 ingredients – rice, garlic, onions, mushrooms and cheese. The key to making successful risotto is to use good parmesan cheese so I've chosen Parmigiano Reggiano cheese. Being not too mild or sharp in taste, it is just nice for the dish, giving off that flirty cheesiness.
Instead of roasting one head of garlic in the oven, I decided to lightly fry it to for that sweet caramised flavour. A little trick to give the vegetable stock that added flavour is to throw in 1/3 of ikan bilis (anchovy) stock which can be found in Asian grocery stores. For a twist of health wholesomeness, I substituted butter with margarine.     
Ingredients
1 head, garlic, chopped
2 ½ tbsp olive oil
2 ½ cups Arborio rice
250g vegetable stock
3 cups water
1/3 ikan bilis (anchovy) stock
1 big onion, chopped
200g fresh button mushrooms, sliced
100g Shitake mushrooms, sliced
2 tbsp margarine
½ cup grated parmesan
Pepper and salt to taste
Method
Chop garlic and fry lightly on low heat.
Pour vegetable stock into a small pan over low heat and add water.
Add ikan bilis (anchovy) stock. Bring to simmer.
In a large pot, heat oil over medium heat.
Add onion and sauté till transparent.
Add mushrooms and season with salt and pepper.
Cook till mushrooms release their juice.
Add the rice and cook for 1 min to toast.
Ladle in hot vegetable stock into the pot of rice till it's empty and gently stir the rice for about 20 minutes.
When most of the liquid is absorbed, lower the flame.
Once the rice has absorbed all the liquid and the rice is creamy, stir in margarine, parmesan and garlic.
Leave the mixture for 2 minutes before serving.
Garnish with grated parmesan and parsley. For an even wholesome nutty flavour, stir in 70g chopped cashews or almonds before serving.
[shopeat_button]