SAVOURY CHEESE MUFFINS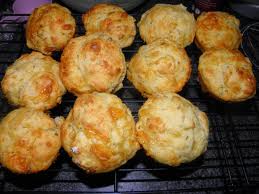 Thinking of what to have for breakfast? Leave aside boring omelette and toast and think out of the box. Muffins make good breakfast treats for the whole family. Here again. Think out of the box. Stray away from ordinary plain muffins and think of fruit, choc chips and cheese. My addiction with My Kitchen Rules Australia has prompted me to think out of the box and create ordinary meals using new ingredients, hence transforming a normal dish to something original and signature.
So, the secret for making good cheese muffins is this. Use strong cheese. And I mean really strong tasting aged cheese. I'd recommend cheddar as this type of cheese works well with muffins. To be precise I'd use Mainland Epicure of Vintage Cheddar, aged up to 36 and 24 months respectively. Another secret is to add sufficient sugar, not too much to prevent the sweetness from overpowering the savoury cheese.
Ingredients
2 ½ cup self-raising flour
½ cup sugar
1 cup milk
1 egg
¾ cup grated cheese
50g butter
Method
Pre-set the oven to 190 degrees.
Grease tray with butter.
Sieve flour into bowl.
Add sugar.
Make a well in the middle and add whisked egg.
Add milk, grated cheese and melted butter.
Mix mixture thoroughly.
Spoon in mixture in every mould in tray. Ensure that each mould is half filled so the mixture doesn't over rise.
Bake for 25 minutes.
Since Mainland cheese is region specific, widely available in Australia and New Zealand, readers from outside the mentioned countries can use this cheese or any other good strong cheese.
<