SPECIAL MELT-IN-THE MOUTH CHOCOLATE CAKE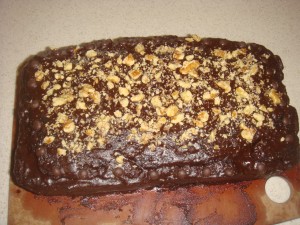 Who could resist chocolate, especially home-made chocolate cake? I baked a special chocolate cake that proved to be a hit during the holiday festivities. This is a recipe that has been perfected and made original through several attempts at baking. Without further ado, let me present the recipe: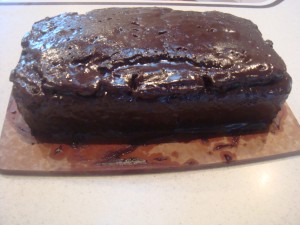 Ingredients
2 1/4 cups self-raising flour
3/4 cup unsweetened cocoa
115g butter 1 cup caster sugar
2 eggs 1 tsp vanilla extract
3/4 tsp baking powder
250g  lite sour cream
3/4 cup milk
3 tsp ricotta cheese
1/2 cup crushed walnuts
1/2 to 3/4 cup blueberries
1 bar of dark cooking chocolate 70% cocoa, melted
Method
1. Preheat oven at 175 degrees Celsius
2. Grease baking tin with melted butter
3. In a medium bowl, whisk flour, cocoa and baking powder
4. In a pan, heat butter
5. Add cooking chocolate in the butter till it melts
6. Add sugar to the mixture and whisk together.
7. Add eggs one at a time and beat well into the mixture
8. Pour the mixture into the medium bowl in step no. 3
9. Beat sour cream and ricotta cheese into the bowl
10. Add vanilla extract and milk and mix well
11. Pour in the blueberries last and mix them well into the mixture ensuring they don't get squished
12. Pour in the batter into the greased baking tin
13. Bake for 50-55 mins  
Frosting  Ingredients
4 tbsp butter
2/3 cup cocoa
1 to 1 1/3 cup sugar
1/4 cup ricotta cheese
1 tsp vanilla extract
Method
1. Melt butter in a saucepan
2. Add cocoa, sugar, ricotta cheese and vanilla extract and mix well
3. Pour the mixture over the top of cake after it has been cooled
4. Use a butter knife to even out the mixture on the surface of the cake as well as on the sides
5. Garnish with chopped walnuts and strawberries or halve cherries for colour  
Each slice is best heated up in the microwave for about 15 seconds and served with scoop of vanilla ice cream.