RAVIOLI IN SAVOURY RICOTTA SAUCE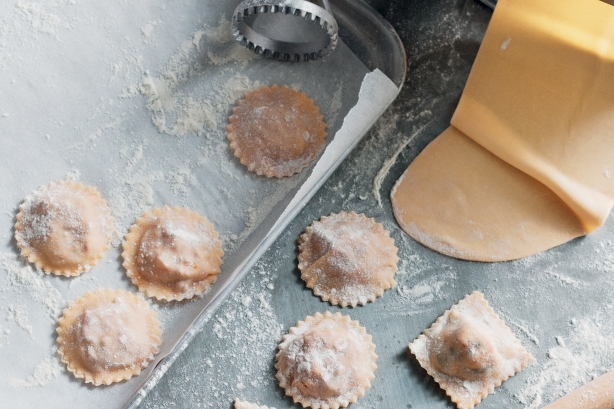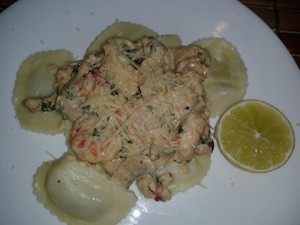 Pasta is a versatile dish that can be cooked in various ways. I recently experimented using different types of pasta in my cooking and amazingly I discovered that commercial pumpkin ricotta ravioli works well in home based pasta sauce. With a little imagination and creativity, I used a mixture of seafood, chilli flakes, ricotta and garlic in this special pasta dish.
Ingredients
4 tbsp. olive oil
1 packet Latina pumpkin and ricotta ravioli
250g mixed seafood
6 cloves garlic, chopped
1 up mushrooms, sliced
1 tbsp. chilli flakes
a dash of pepper
1 tbsp. Italian herbs
half lemon
150g ricotta cheese
shredded cheese for garnishing
Method
1. Boil a pot half filled with water. Add salt.
2. Once boiled, add ravioli and let it boil till al dente.
3. Drain the pasta in a colander and set aside.
4. Heat up oil in a pan.
5. Lightly fry seafood till cooked. Remove the cooked seafood and place it aside.
6. Use the same pan with seafood residue and add a bit more oil.  Heat the oil.
7. Brown garlic in the hot oil.  
8. Add mushrooms and sweat them.
9. Add in cooked seafood.
10. Mix in the chilli flakes and add ricotta.
11. Stir the mixture till all ingredients blend well.
12. Squeeze half a lemon in the sauce.
13. Add pepper and Italian herbs.
14. Stir thoroughly. Add a little water to dilute the sauce.
15. Let the mixture simmer for a further 3 mins.
16. Add ravioli and mix thoroughly.
17. Serve on plate and garnish with shredded cheese and a wedge of lemon.
The chilli flakes add a kick to the dish and enhances the overall flavour of the pasta sauce. The ricotta binds the pasta well and the garlic just adds a depth to the dish. The commercial pumpkin and ricotta ravioli adds body to the overall taste making the dish very wholesome and satisfying.