FUSION VEGETARIAN PASTA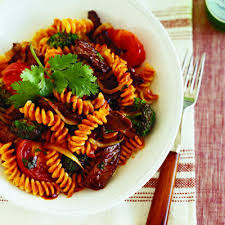 Fusion Pasta
Pasta is a versatile dish that is simple enough to cook. With a little creativity, I've transform the pasta into a different dish, one with an Asian influence for that added savoury zest. In this recipe, we will need soy sauce, sweet soy or kicap manis and some tomato sauce. You can add any ingredient in this dish be it chicken pieces, mushrooms or prawns. Without further ado, here is the recipe:
Ingredients
1 cup pasta (penne or macaroni)
4 cloves garlic, chopped
1 medium onion, sliced
100g mushrooms, sliced
1/2 red capsicum, sliced
spring onions, chopped
1 tbsp. cooking oil
1 tbsp. soy sauce
1 tbsp. sweet sauce or kicap manis
1/2 tbsp. tomato sauce
a dash of pepper
a dash of chilli flakes (optional)
coriander for garnishing
Method
1. Cook pasta till al dente, drain it and leave aside.
2. Heat oil in a pan and cook onions till transparent.
3. Add garlic and cook till aroma is released.
4. Add capsicum and mushrooms and cook for a minute.
5. Add cooked pasta to the vegetables and stir well.
6. Sprinkle a dash of better for taste.
7. Add soy sauce, sweet sauce and tomato sauce and ensure that the sauces blend in with the pasta and vegetables.
8. Add spring onions and chilli flakes.
9. Serve with sprigs of coriander
I refrain from adding extra salt as the soy sauce contains sufficient sodium to enhance the taste of the dish. Add extra sweet sauce if you like the dish to taste sweeter. And of course, the tomato sauce gives the dish that tangy touch to tickle the taste buds. This is a perfect simple dish to serve on those busy weekdays. Just prepare the ingredients in advance and throw them in the wok when you come home from work. Enjoy!