TASTY CROQUE MADAME WITH A TWIST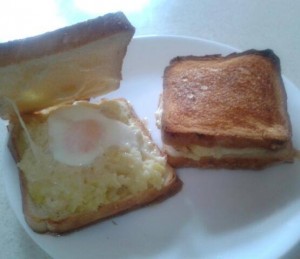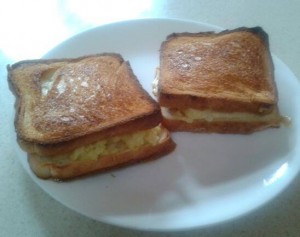 I was inspired by Rachel Khoo's muffin Croque Madame from the cooking program entitled 'The Little Paris Kitchen'. In a particular cooking series of the mentioned title, Rachel creatively used muffin molds to prepare her Croque Madame. I bought a loaf of white bread on Monday and left it untouched till this morning when I finally decided to brace myself for this new breakfast meal. The truth is that I greased the muffin molds in an attempt to follow Rachel's style. However, the stale bread broke into pieces. There you go…rule number 1 – do not ever use stale bread for this recipe. I then had to resort to the conventional way of preparing Croque Madame, that is, by using slices of bread.
So muffin style Croque Madames cast aside, I went ahead to prepare my special croques with a twist. This means using mash potatoes in the Croques and adding cayenne pepper to the Bechamel Sauce. Ok, I know you can't wait to try. So be prepared for the mess in the kitchen and here it is:
Ingredients
Bechamel Sauce
1/4 cup plain flour
2 tbsp. butter
3/4 cup milk
1/4 Gruyere cheese, grated
dash of cayenne pepper
salt
ground pepper
Croque Madame
8 slices of white bread
50g of butter for greasing and lightly slathering on bread slices
4 eggs
pepper
Gruyere cheese
Mashed Potatoes
3 potatoes, mashed
1/3 milk
pepper to taste
1 tbsp. Dijon mustard
Method
Bechamel Sauce
1. Melt 2 tbsp. butter in a pan over medium heat.
2. Pour in flour and stir.
3. Add milk a little at a time while stirring until the mixture thickens.
4. Add Gruyere cheese and mix.
5. Add salt and pepper to taste and a dash of cayenne pepper.
6. Put pan aside once mixture's consistency is similar to that of tomato sauce.
Mash Potatoes
1. Peel potatoes and cook them in the microwave for about 6 mins or until cooked and soft.
2. Drain excess water and mash potatoes with a masher.
3. Add milk, Dijon mustard and pepper.
4. Mix thoroughly.
Croque Madame
1. Preheat oven to 250 degrees C.
2. Grease tray with melted butter.
3. Flatter 4 slices of bread with a rolling pin.
4. Lightly butter the slices of bread on both sides.
5. For each Croque Madame, spread Bechamel Sauce on one slice of bread.
6. Spread mash potatoes on top of the sauce.
7. Make a little depression in the middle of the bread slice to keep the egg in.
8. Crack an egg and slide it in the depression.
9. Sprinkle Gruyere cheese.
10. Add a dash of pepper.
11. Bake the Croque Madame in the over for 20 mins.
12. Enjoy.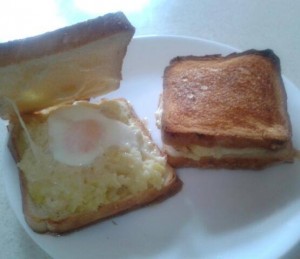 Rule number 2…You'd need to bake the croques for an extra 5 mins by lowering the temperature of the oven to 180 degrees C after 20 mins to ensure that the eggs are well done and that the toast doesn't burn. Serve the Croques with coffee and enjoy! The combination of savoury Bechamel Sauce and mashed potatoes tantalises the taste buds, making your morning worth it just by trying this recipe with a twist.
Yes, it's decadent and what an indulgence with all that butter, egg and potatoes. One has to pamper oneself sometimes…