VEGETABLE AND CALAMARI STIR FRY PASTA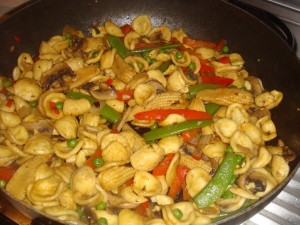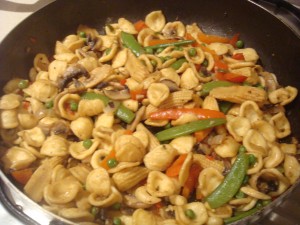 Pasta is an interesting staple that can be cooked various ways. The traditional pasta is usually cooked using tomato as a base. If you are up for something different, think of stir fry vegetables and seafood and toss in your favourite pasta. It is not only simple to prepare but also satisfies the tastebuds.
Ingredients
1 packet pasta
1 onion, sliced
120g broad beans, whole 
200g mushrooms, sliced
4 tomatoes, sliced
baby corn, halved
calamari, sliced
cashews, whole
cooking oil
pepper
salt
cayenne pepper, 1 tsp
2 tbsp. oyster sauce
1/3 cup vegetable stock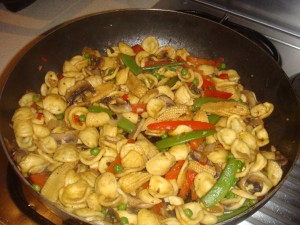 Method
1. Cook pasta in salted boiling water. Drain when el dente and set aside.
2. Heat cooking oil in a pan. Cook calamari and set aside.
3. In a separate saucepan, heat cooking oil. Cook onions till transparent in medium heat.
3. Add mushrooms and cook till they sweat.
4. Add broad beans, baby corn and tomatoes. Leave them to cook for 3 minutes.
5. Pour cooked calamari and its juice into the pan together with the other ingredients. Sir well.
6. Add cashews and season with pepper and oyster sauce.
7. Add vegetable stock and let the sauce thicken by letting it simmer.
8. Add cooked pasta and mix it well with the other ingredients.
9. Add cayenne pepper and a bit more pepper to taste.
Explore using various pasta such as rotini (spirals), conchiglie (shell pasta), farfalle or penne. This dish makes a delicious, wholesome meal for dinner. Calamari can be substituted with prawns or scallops. Enjoy!