FASHION FIXES THAT PUT SAVINGS IN YOUR POCKET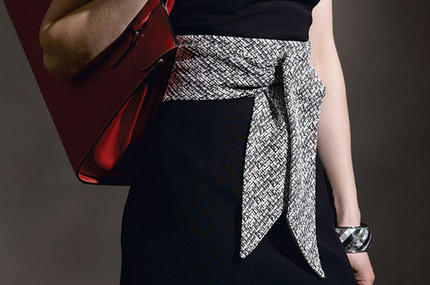 Photo credit: http://images.brandretailers.com
If you are thinking of discarding your favourite pair of trousers because of a jammed zip or one that partially breaks off, think twice. Why not send it to the tailor to get the zip removed and re-sewn for a fraction of the price of a new pair of trousers? This post looks at how you can transform any piece of clothing or pair of foot ware without having to shop for new ones.
Want to know more? Read on:
1.  Frayed edges
If your blouse seems to be a bit frayed around the edges, a velvet ribbon can be the perfect cover-up when sewn on top of the frayed seams. Use similar colour for an inconspicuous blend-in effect. Alternatively, wear a sweater or jacket to cover that frayed edges in cooler seasons.
2.   Loose elastic waist band or cuffs
Replace loose elastic cuff or waist band with a new one. For a more fashionable effect, replace the loose elastic with a satin ribbon that you can tie into an attractive bow. Use a brighter coloured ribbon for white tops or black or neutral coloured ribbon for brighter ones.     
 Photo credit: http://media-cache-ec0.pinimg.com
Photo credit: http://i01.i.aliimg.com
3.  New outlook
You may choose to wear the same gorgeous and expensive dress to attend functions or meet up with friends for special events. You've worn it so many times that friends and family members can easily recognise the same clothing. Disguise the dress by adding a touch of variety in the form of knitted cardigan of various sizes, a shawl, scarf or a vest. This two-piece touch will definitely give your dress a new fresh look. Also, wear a beaded or large-stoned necklace so attention is drawn to it and not that same old dress.
Photo credit: http://www.odeonbykris.com
Photo credit: http://www.bergdorfgoodman.com
4.   Creative additions
Give an old blouse a new look by replacing its plain buttons with ornate ones. Add sequins to plain tops or thin lace to line the hem of a dress. Wear a thick belt to give a plain blouse an added touch of glamour. In addition, wear the over-worn short dress over tights or pants for that new look. 
5.    Test Stains 

Always test perfumes, deodorants or creams to make sure they will not have adverse chemical reaction on your clothes. Certain creams or lotion have a tendency to stain clothes. Testing your lotion, perfume or cream on the underside of old or unused clothes with save on dry-cleaning expenses in the long-run.    
6.   Shoe fixes
If you've worn out the sole of your favourite shoes or boots, send them to be resoled instead of tossing them out. Give dull-looking shoes a brand look by giving it a coat of polish or replace high-heeled shoes with low heels.
Old clothes and foot ware can be given a magical make-over through creativity and some initiative. Save hundreds of dollars by simply giving your old wardrobe new fashion fixes. Accesorise and coordinate clothes to create that new look. Less is more!