GOLD RUSH: 5 BENEFITS OF GOLD FOR THE SKIN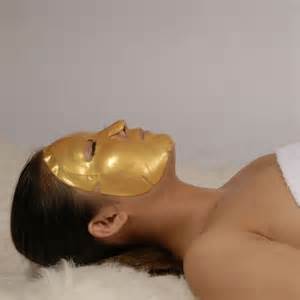 Shining, shimmering splendid…and no, we don't plan to take you on a magic carpet ride (oh, what luxury). Gold has been one of the well-known precious metals with astounding value, and it's no wonder why Midas wouldn't want it any other way. Aside from the hefty price tag and VIP status that gold denotes, they are really statement pieces that any woman would want to wear. It is timeless, and most of all, elegant enough to make heads turn. 
Well ladies, hear us out when we say that gold may be your skin's new best friend. And before you get the chance to sport some questioning eyes, we've listed 5 24k gold skin benefits. Read on as you learn a thing or two about 'the king of precious metals', and what it can do for your skin. We bet you didn't see that coming.
1. Reduces wrinkles, fine lines, and dark spots
As women, we all have that teeny pet peeve when it comes to our imperfections – and, most of the time, we tend to major on minors. Are signs of aging a minor blunder really? I bet most, if not all, of us would beg to disagree. Gold is pretty helpful especially when you're suffering from premature aging – it works at a cellular level, stimulating collagen and elastin production for a taut, firm appearance. Sayonara, signs of skin aging.
2. Promotes skin health and removes toxins
One of the most important 24k gold skin benefits is the promotion of overall skin health by improving blood circulation to the skin, thus increasing skin cell metabolism and secretion of toxins which hasten the aging process of the skin. It also helps fight free-radicals and other harmful elements which could be detrimental to the whole skin rejuvenation process.
3. Helps balance skin tone and lighten complexion
If you're talking about 24k gold skin benefits, a balanced skin tone and lighter complexion is one that should come to mind. Especially when you're suffering from an uneven skin tone, you might consider using a product with a gold component. Gold masks helps lighten and enhance one's complexion, making you appear blooming and glowing from the inside.
4. Soothes and helps repair sun-damaged skin
 Gold is known for its anti-inflammatory properties, and if you're stressing because of sun-damaged skin, gold might be the answer to all your skin worries. It helps hydrate and lock-in moisture inside the deep layers of the skin, facilitating in the repair of tissues.
5. Stimulates production of new skin cells
If you're all out when it comes to fighting all those signs of aging, gold can be of great help to you. As mentioned, since it works at a cellular level, it helps in the stimulation of the growth of new skin cells. This process helps replace worn-out cells with healthy ones, for a more youthful, glowing look.
We have reached the bottom of our list, ladies! We hope you enjoyed as you learned about 24k gold skin benefits. If gold is unchartered territory for you, today might be a great time to amp up your skincare routine a notch and try something that really works.