GEAR UP FOR WINTER WITH 5 BOOT STYLE IDEAS!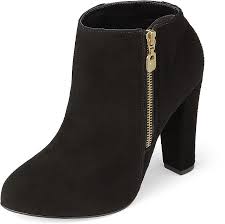 Brrrrrr! The cold season is setting in, ladies – and what could possibly complete your wardrobe other than winter boots? There is no turning back when it comes to these fashion-forward items. From high fashion to the urban, casual streets of metropolitan Sydney, winter boots are making a comeback as the the temperature drops, chilling the air. Discover your personal style as we've selected 8 boot style ideas that you can cop out for the season! Be warned though – these boots can pretty much steal the spotlight. Have fun!
 Photo credit: http://phantomroms.com/
Over-the-knee boots
Perfect for the fall-to-winter season, these killer footwear are out to make a statement everywhere you go. Don't be fooled by its sleek, sultry appearance – these babies are fashion staples and will never go out of style. Indulge in a pair (preferably in a neutral color) that is functional enough for day to night transitions, one that is perfect for your wardrobe picks as you go 'round and about decking the halls (while grabbing the world by the lapels in your kick-ass boots).
 Photo credit: http://www.stylebistro.com/
Mid-calf boots 
Sometimes, it pays to be not too over-the-top…and for those times when you want to keep it simple, mid-length boots are the one for you. It's not flashy and attention-seeking (like your pushy officemate), but it's not shabby either. A boot that hits somewhere between the knee and the ankle, it is perfect for those casual days out of your usual office routine – a stroll in the park, while running some errands, the options are endless. Pair it off with your favorite pair of jeggings and oversized tees for that "I-just-rolled-out-of-bed-but-I'm-still-fab" look.
Photo credit: http://raindropsofsapphire.com/
Wedge boots
If you're looking for the perfect boot that embodies just about everything about winter, which is comfort and style combined, then you should get yourself some wedge boots. These winter boots are perfect for those days when you would still want to dress up in spite of a long day ahead. If you're the petite type and you would want some extra leg leverage sans the discomfort that normal heeled boots can bring, wedge boots are the way to go, sister!
Photo credit: www.pinterest.com
Motorcycle/Combat boots
Rocker, adventurous chicks will love these babies…but it doesn't mean you wouldn't, too. These fashion forward babies are taking the streets of Sydney by storm – imagine the number of looks you can come up while strutting your stuff in some moto/combat boots! Luxe meets rogue with these boots…you can never go wrong with owning a pair. Add some spunk to your casual outfits with these boots while you're on your toes for rest of the season. It's time to come out of your fashion comfort zone and explore the possibilities.
Photo credit: http://alwaysshoe.com/
Ankle Booties
 Ankle-grazers are here to stay – and with good reason, of course. You can pair this with almost anything you can get out of the back of your closet – denims, leggings, trench coats, almost anything from your winter wardrobe. Talk about ultra-versatile! From shabby chic and laidback to ultra-hip and funky, these popular steppers are sure to nail it.
We have reached the bottom of our list, ladies! We hope you have found that one true pair of steppers you can use this season. Winter boots are a great addition to any wardrobe – a great, versatile pair can go a long way. Enjoy the season and step it up in style!