SAVOURY FUSHION CHEESE CAKE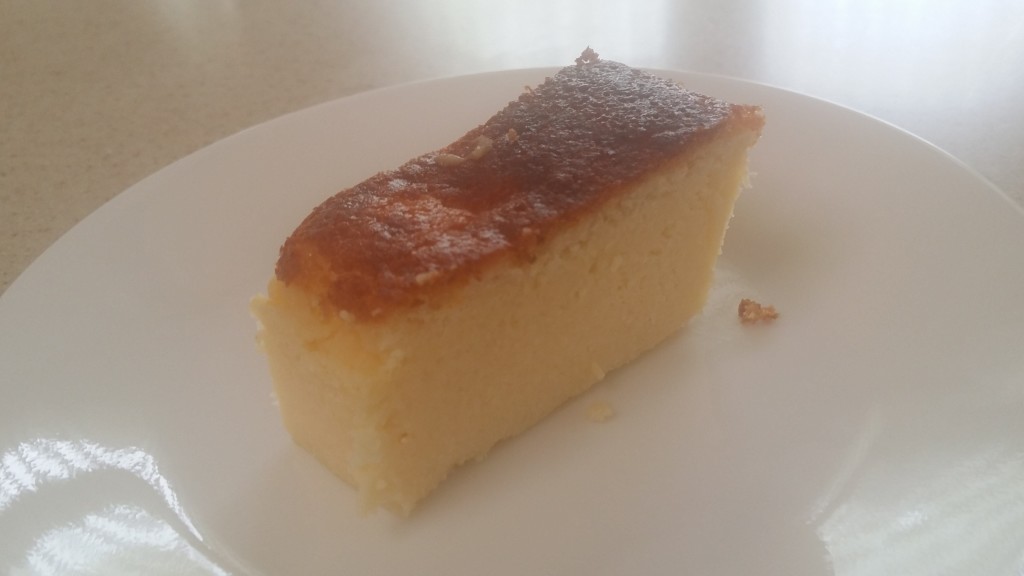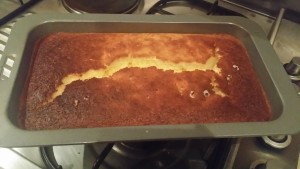 A few  days ago, I was tempted to try baking Japanese cheese cake. I love the lightness and fluffiness of the cake which I had tasted several years ago. The craving pangs of the delicious light cheese cake that melts in the mouth were so intense that decided to go for it one night. I had all the ingredients and equipment except for a water bath. I had never used the water bath technique in my baking exploits prior to this attempt but was adamant that I achieved my baking goal. I resorted to using a grill tray for that purpose. As it turned out, the cake was not light and fluffy but dense and creamy like that of the English cheese cake sans the biscuit crust base. Hence the title of my recipe 'Savoury Fushion Cheese Cake'.  It was savoury as a result of the three types of cheeses added. I guess using just ricotta would be too limiting and bland.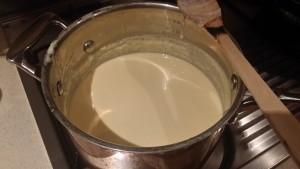 Ingredients 
1 cup caster sugar
5 egg white
5 egg yolks
1/4 tsp baking soda
50g melted butter
250g ricotta cheese
1/2 cup grated Vintage cheddar 
1 cup ready-to-use shredded cheddar 
100 ml fresh milk
half lemon juice
60 g plain flour 
1/4 tsp salt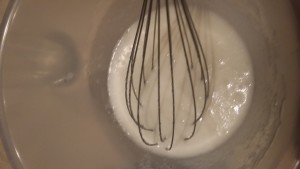 Method
1. Melt ricotta cheese, grated Vintage cheddar, shredded cheddar, butter and milk in a saucepan over a fire until it forms a smooth mixture. Cool the mixture. 
2. Sieve flour into a big bowl and add salt, egg yolks, lemon juice. Mix well. 
3. Fold in the flour mixture (2) into the cheese mixture (1) forming the cake mixture.  
4. Make a meringue by whisking egg whites with baking soda till foamy. 
5. Add sugar and continue to whisk until soft. 
6. Take 1/3 of the meringue mixture and fold into the cake mixture. 
7. Fold in another 1/3 of the meringue mixture until it blends well.
8. Fold in the remaining 1/3 meringue mixture.  
9. Pour the mixture into a greased cake pan. 
10. Bake in water bath for 1h 20 mins at 160 degrees.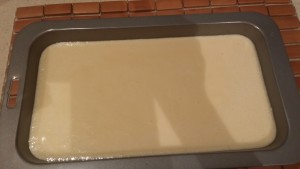 After thought
Don't be daunted by the preparation described in the recipe. It is doable despite a series of folding in flour and egg white. This should be done gently. The real challenge lies in using the water bath. A deep roasting pan that fits the oven nicely will serve the purpose. Ensure that the water covers half of the cake pan. This is so that the top of the cake doesn't darken and crack. The top of my cake hardened and turned dark brown because I hadn't used a proper water bath. The top also ended up in a deep crack.
Check to see if the cake is thoroughly baked after 1 h 10 mins. Reduce the heat to 150 degrees if it is too hot. You can gauge this by using the colour of the cake as an indicator. It should be very light brown in colour and shouldn't harden.
If you have a sweet tooth and prefer to have a sweeter cake, add another 1/2 cup of sugar. I like my cheese cake savoury and cheesy and prefer not to let the sweetness numb my taste buds.
Reducing the amount of cheese will also change the texture from dense to fluffy. I recommend using 100 g ricotta, 1/2 cup shredded cheddar and 1/2 cup grated cheddar if you prefer the lighter version.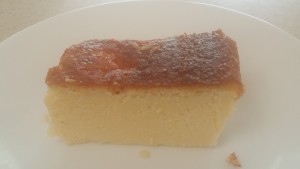 Let the cake cool on a cooling rack. Once cooled, put it in the fridge. It is best eaten the next day. The flavour will tend to integrate and the texture will smooth out. 
I hope to bake this cake again. I mean, the fluffy version of it. Let's see…till next time.