SPECIAL THAI PINEAPPLE FRIED RICE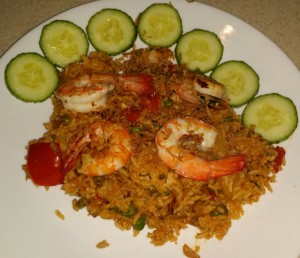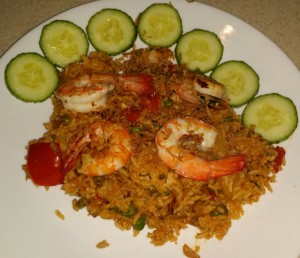 When you have leftover canned pineapple and rice, what could you prepare? Fried rice, I hear you say. Well…why not transform ordinary fried rice into something special? Thai pineapple fried rice is the perfect answer. Throw in some prawns and voila! You have a dish to impress your guests. It's not as difficult as you think. A short cut method and cooking trick is to use Thai red curry paste in a bottle. My favourite is Ayam brand which is not a challenge to find. Woolworths and Coles have them in stock.
Ingredients
leftover rice
6 cloves garlic, finely sliced
1 onion, sliced
1 cm ginger, chopped
200g shelled prawns
1 red capsicum, diced
canned pineapples, diced
pineapple juice
2 tsp dried shrimp, made into a paste
2 tbsp. Thai red curry paste
2 tbsp. green peas
A handful of cashew nuts
pepper
cucumber for garnishing
Method
1. Put your pan to a high heat and add oil.
2. Fry prawns till cooked and put them aside.
3. Next, lightly fry the cashews and leave them aside.
4. Heat oil in a wok and fry onions, ginger and garlic.
5. Add pineapples and green peas and mix well.
6. Add in shrimp paste and Thai red curry paste and dilute the paste with pineapple juice from the can.
7. Add the rice and mix well.
8. Add cashews and mix them into the rice before serving.
9. Garnish rice with coriander and add cucumber on the side.  
There you have it – special fried rice. The pineapple, shrimp paste and Thai curry paste create an explosion of taste, transporting you to the land of smiles. The cashews introduce an interplay of texture and crunch while the cucumber as well as coriander provide a refreshing after taste and cools off the heat.