EGYPTIAN PHOOL DISH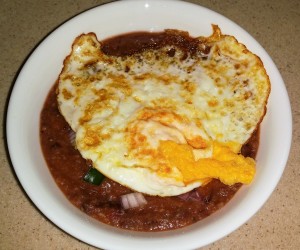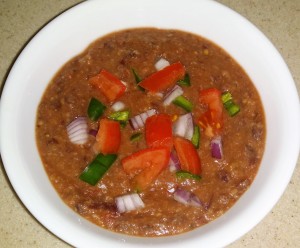 I've been craving for Egyptian Phool, a spicy, hearty dish consisting of Fava beans and minced meat. Since I'm not sure if I can get Fava beans here in Australia, the next best option is to use red kidney beans. The dish is pretty straight forward but be prepared to do some blending. Thankfully my small blender works well. For this dish, I've tried to substitute meat with blended oyster mushrooms. Phool with meat seriously tastes better, for it gives that full-bodied flavour. For the beans, it's best to use Foul Medammas or Fava Beans. If those aren't available, the next best alternative is to use red kidney beans. They work just as well.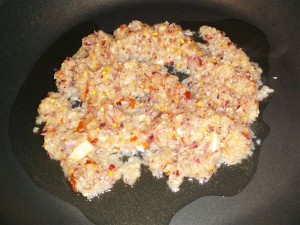 Ingredients
2 cans of Foul Mademmas/Fava Beans/Red Kidney Beans
150g ground beef
2 tsp ground cumin
2 tsp coriander powder
2 tsp ground black pepper
1 tsp garam masala
1 can, diced tomatoes 
salt to taste
Blended
3/4 large red onion, sliced 
1cm ginger, sliced
6 cloves garlic, sliced
3-4 dried red chilies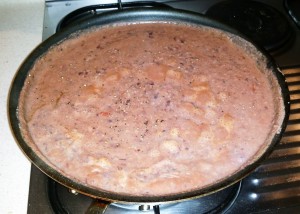 Accompaniment 
2 eggs, sunny side up
1/4 red onion, diced
2 green chilies, sliced
2 tomatoes, diced
2 calamansi limes, cut into wedges
Method 
Blend onion, ginger, garlic and dried red chilies and set aside. 

Blend beans with water separately and set aside. 

Heat oil in a pan and cook ground beef. Once cooked, set aside.  

Add oil to the same pan and fry the blended paste till fragrant. 

Add cumin powder, coriander powder, ground black pepper and blend well. 

Add in the blended beans and stir well. 

Add salt to taste and mix well. 

Add cooked ground beef into the mixture and stir well.

Add canned diced tomatoes with liquid and stir mixture well. Add a bit more cumin powder, pepper and garam masala if needed. 

Simmer the mixture on low heat for 20 more minutes or till it is reduced.

Serve the dish in a bowl. Sprinkle diced green chilies, diced tomatoes, diced red onions and top up with sunny side egg. 

Squeeze a wedge of calamansi lime and enjoy!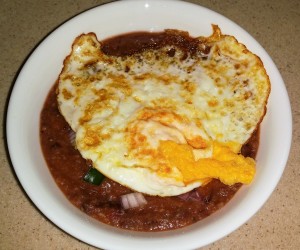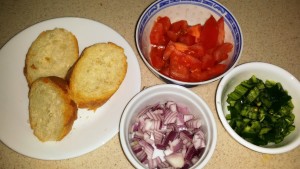 This Egyptian Phool dish is suitable for lunch or dinner. Best served with sliced baguette. Scoop it, dunk it with baguette slices or enjoy the bean mixture from a spoon. It is a very filling and wholesome dish in any season. I won't be surprised if everyone at the table goes for a second helping. So make sure there is plenty of extra phool.  This dish has been modified over time and place. Does anyone know what the original Egyptian Phool comprises of? Do share your knowledge on this phenomenal Egyptian dish.