SPECIAL FRIED SPRING ROLLS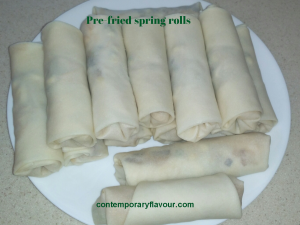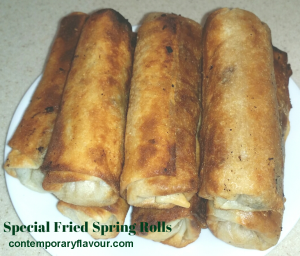 I'd like to share with you a special type of finger food I prepared last weekend. Mind you, it is filling and has so much zing that it can be eaten for lunch. 
Preparation for this finger food is simple but needs some planning and organisation. So, a trip to the local Asian grocery store is mandatory. I would recommend selecting the medium-sized skin as this is just the right size for the type of filling I'll share in a while. Also, this recipe calls for Shitake mushrooms. Getting this is a no-brainer as they can be found at the local supermarkets. Why Shitake? I insist on using this variety because of its flavour. It's tasty and meaty and will definitely give  your spring rolls a lot of zing. Oh, so here it is:
Special Fried Spring Rolls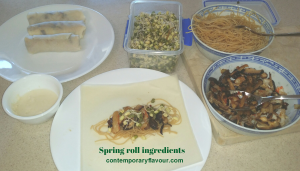 Ingredients
Spring roll skin
1 packet Shitake mushrooms, sliced
1 onion, sliced
4 red chilli, sliced
1 inch ginger, chopped
200g cooked prawns, sliced
half cup bean sprouts
vermicelli noodles, half a block
4 tbsp. soy sauce
2 tbsp. Kicap manis
2 tbsp. Hoisin sauce
pepper
cooking oil
cornflower and water mixture (to seal the skins)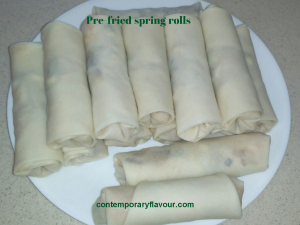 Method
Slice the onion, Shitake mushrooms and red chillies.

Peel and chop ginger.

Boil water and pour over vermicelli noodles in a pot. Once soften, drain and leave it for a few minutes to dry. Pour soy sauce, kicap manis and hoisin sauce into the bowl of vermicelli and mix well. Leave the mixture till ready to use.

Meanwhile, de-shell the cooked prawns , slice them and set aside.

Heat oil in a pan and once hot, add the onions. Cook till transparent. Then add the mushrooms, chillies and ginger. Mix well and let the juice ooze from the mushrooms. Remove the ingredients and set aside to cool.

Pull out two spring roll skins each and them on a big plate. Lay the cooled vermicelli on one side of the skin and spread it out.

Add the mushroom mixture and then the sliced prawns.

Top it up with the bean sprouts.

Fold in the sides and roll the skin away from you. Ensure that each roll is tight.

Seal the end of the skins with cornflour and water mixture.

Prepare the rolls until all ingredients are used.

Heat oil in a pan and once hot, fry the spring rolls till brown.

Serve the spring rolls hot and enjoy it with sweet chili sauce.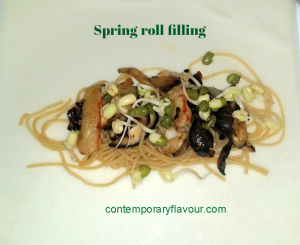 The special fried spring rolls keep longer pre-fried and in the freezer. They come in handy when unexpected guests arrive at your doorstep.  The skins aren't suitable for baking. If you're not a fan of fried food, use  short crust pastry instead. As an afterthought, the vermicelli needs something thick to coat it. Hence, I've used kicap manis and hoisin sauce as they not only coat the vermicelli well but also gives better flavour. The trick is to leave the soaked vermicelli longer so it soaks up the flavour of the sauces better. These are the best spring rolls ever, not found in restaurants.