THAI FISH CAKE WRAP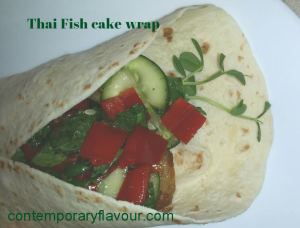 If you're at wits end about what to prepare for dinner, think wraps. It's easy, convenient and best of all quick to prepare. Consisting of a handful of ingredients, mostly vegetables, this Thai Fish Wrap is a no brainer to prepare.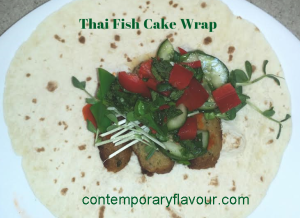 Ingredients
1 cucumber, sliced
2 tomatoes, chopped
1 red capsicum, chopped
Thai basil leaves
2 fish cakes, sliced
1 tbsp fish sauce
1 tbsp sesame oil
1 tbsp soy sauce
juice of half a lemon
tortilla wraps
Method
Mix cucumber, tomatoes, capsicum and basil leaves in a bowl. Add fish sauce, sesame oil, soy sauce and lemon juice to the vegetables and mix well.
Place the salad on tortilla wraps. Top it up with sliced fish cake. Wrap the tortilla tightly. Enjoy!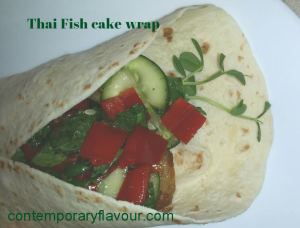 Get ready for the refreshing taste of basil and the zesty tang of the salad dressing. The fish cake, of course, gives the palate an enriched meaty flavour. Enjoy!!!