SUKIN ROSE HIP OIL – A REVIEW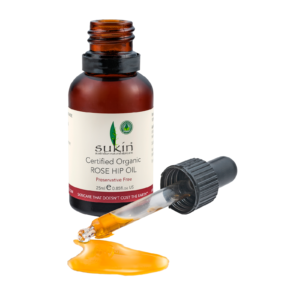 Rose Hip Oil comes from the seeds of a specific variety of rose, Rosa aff. rubiginosa or Rosa moschate. These seeds come from the fruit left behind after a rose has flowered and dropped its petals. Harvested predominately in Chile, the seeds contain vitamins, antioxidants and essential fatty acids that can correct dark spots, hydrate dry and reducing scars and fine lines.
The Rose Hip Oil I'd like to recommend is from the Sukin range. Since applying Sukin Rose Hip Oil on my face, my complexion has improved. It is noticeably more radiant and smoother. Some sun spots have given way to brighter skin.  The oil glides smoothly on my skin and stays till my first face wash in the morning.
I would recommend applying a handful of drops throughout the face in the evening before sleep. Also apply on the sides of your eyes to smoothen fine lines. Gently massage the oil throughout the face till it is absorbed. Don't disregard the neck area. Containing Vitamin A which has small molecules, the oil is able to penetrate into deeper layers of the skin and improve skin moisture.
Benefits
Rich in fatty acids, Sukin Rose Hip Oil is preservative free. When absorbed into the skin, the fatty acids convert to prostaglandins (PGE), which are involved in cellular membrane and tissue regeneration. It is also rich in anti-oxidants which help prevent dryness. The beta-carotene in the oil restores suppleness and evens skin tone. Since it is a certified organic product, the following is not present:
Sodium lauryl sulphate

Sodium laureth sulphate

Parabens

Synthetic fragrances
Sukin Rose Hip Oil (25 ml) is sold at all leading pharmacies at AU$19.99.