CREAMY PESTO PASTA WITH AVOCADO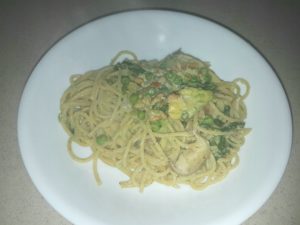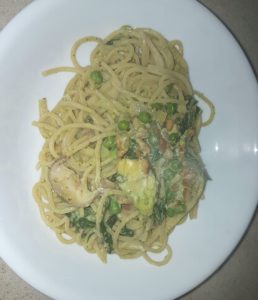 Last Sunday, I decided to prepare pesto pasta. I racked my brains for dinner ideas and came up with pesto pasta with a twist. Simple to prepare, this dish needs quality Shitake mushrooms and fresh spinach leaves.  In my case, I happened to have some rocket leaves in my fridge so those became part of the ingredients. 
I've made this dish previously but have omitted some ingredients. In this dish, I have also made sure that the pasta is moist and creamy. Using a cup of pasta water prior to draining the spaghetti is a brilliant idea. It not only adds some moistness to the pasta, but also enhances its flavour. 
Ingredients
1 big onion, sliced
1/2 cup Shitake mushrooms 
1/2 cup fresh button mushrooms
a bunch of asparagus, sliced at an angle
1 cup frozen green peas 
handful of fresh spinach/rockets
1 small bottle of pesto
1 avocado 
handful of lightly fried pinenuts
3/4 packet of spaghetti
1 cup of spaghetti water
pinch of salt
pepper
Method
Add some salt to water in a pot and set to boil. Once bubbles have formed, add spaghetti in and boil till al-dente. Pour some spaghetti water into a cup for use later.   

Add onions and fry till caramelised. Then add asparagus and mushrooms. Let the latter sweat.

Add green peas and mix till cooked. Then, add pine nuts.

Add pepper to taste and blend well. 

Then empty pesto from the bottle into the mixture and then add spaghetti water into the mixture. Mix thoroughly. 

Add in the spinach/rocket leaves and then the spaghetti. Mix well. 

Add more pepper if needed. 

Scoop avocado from its shell and mix them into the pasta. 

Serve and enjoy.
The pesto pasta is creamy and delicious. If you are planning a healthy and satisfying meal, this is the one to consider. 
The green peas and onions add a tinge of sweetness to the pasta. This is truly a scrumptious creation.