TASTY BROWN TOMATO RICE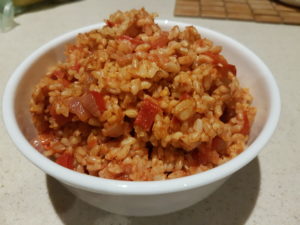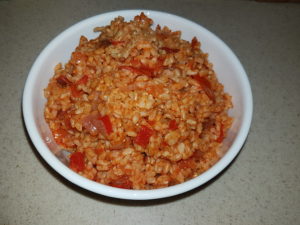 This is the first time that I've prepared tomato rice using brown rice. I must declare that the brown tomato rice has been a success. It tasted just as delicious and for sure it is healthier than white rice. This rice can be eaten on its own with chicken or fish or with gravy. If you don't already know, you should use 2 cups water to one cup brown rice ratio.
Ingredients
1 cup brown rice
1 large onion, sliced
4 large tomatoes, diced
1/2 bottle of Provinicial Italian Tomatoes with Grilled Bell Peppers
pepper to taste
Method
Fry sliced onions till caramelized.

Add tomatoes till they soften.

Add Provincial Italian Tomato sauce or any bottled sauce of preference

Add a dash of pepper and mix thoroughly.

Once the brown rice is cooked, pour in the mixture into the rice cooker and mix it thoroughly with the cooked rice.

Serve with side dishes or with gravy.
This rice is packed with all the goodness of tomato and is undoubtedly delicious. Serve it with salad, fish or chicken or pour lentil-based gravy or tomato chicken gravy over it.