SCRUMPTIOUS STIR FRY VEGETABLE VERMICELLI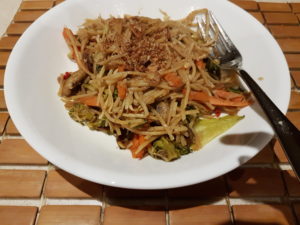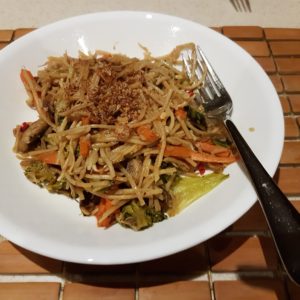 To prepare this stir fry vegetable vermicelli recipe, you need good vermicelli. I use chili brand for its quality. Some vermicelli gives off an awful after taste of flour but this brand is the perfect one for my noodle dishes. The trick to preparing this dish is to make use it is moist enough. This can be addressed by using vegetable stock. Another is to complement your cooking with that of the microwave to soften your hardy vegetables. This way, you don't have to cook the vegetables for too long which takes the nutritious value away. 
Ingredients
1/2 packet of vermicelli 
1 large onion, sliced
4 cloves garlic, chopped
1 bak choy, chopped
1 broccoli, chopped
4 carrots, sliced
1 packet bean sprouts
2 tbsp oyster sauce 
4 tbsp soy sauce
4 tbsp kicap manis
2 tbsp Hoi Sin sauce
250g vegetable stock
pepper to taste 
some fried shallots for garnish
Method
Pour boiling water over vermicelli in a pot till it softens. 

Drain the vermicelli in a colander and leave aside. 

Heat oil in a skillet. 

Fry onions till caramelized.

Lightly fry garlic. 

Soften broccoli and carrots separately in microwave for 3-4 mins. 

Then add them in the skillet. 

Add oyster sauce and mix thoroughly. 

Add bak choy and then the vermicelli. 

Then add soy, kicap manis  and Hoi Sin sauce. Mix well. 

Pour in vegetable stock to add moisture. Taste and add soy and kicap manis if needed. 

Lastly, add bean sprouts for the crunch. 

Add pepper to taste. 
Serve while it is piping hot. This is a great dish to serve to guests. For protein, you can choose to add fried tofu or even prawns or chicken if you're a non-vegetarian.