GARDEN VISITS IN THE HIGHLANDS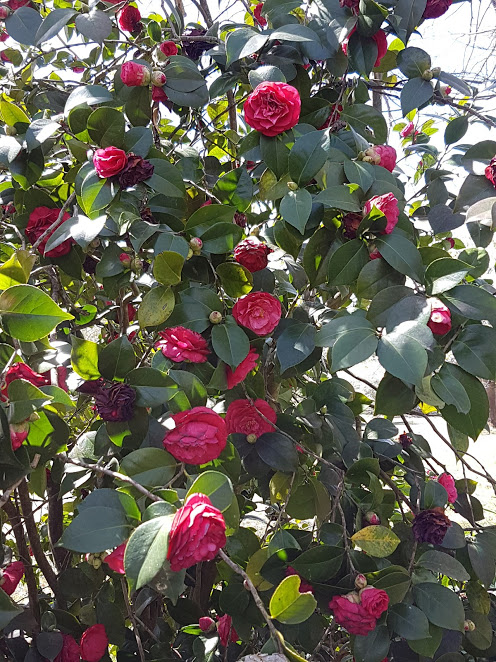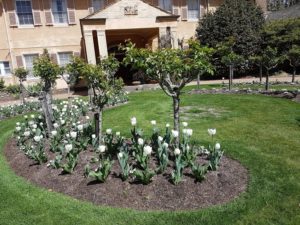 So I spent the long weekend in Bowral, in the Southern Highlands. There are two beautiful gardens worth visiting there, Moidart Garden and Milton Garden. These gardens are within close proximity to my accommodation at the Biota. 
Moidart Garden 
Moidart Garden is very English, tucked away in the folds of the highland which is part of the Great Dividing Range that spans from NSW to Queensland. The name Moidart is actually a district on the west coast of Scotland. It was built by Mr James Burns in the early 1930s.  
The garden features mature deciduous trees which provide a stunning display of autumn colours. Specimens include giant sequoia, red oaks, golden elms, chestnuts, london plane trees, copper beech, dogwood, tulip trees and cypress.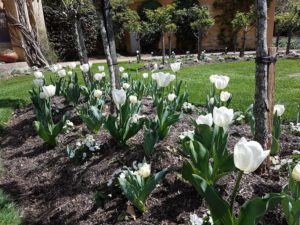 I fell in love with the setting in front of the huge house. Graceful white tulips have been planted in neat rows in front of the residence which look like a country manor.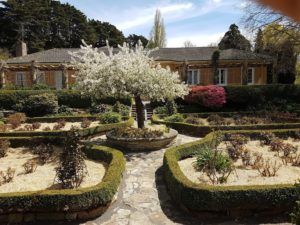 Sunken Rose Garden
To the east of the house, surrounded by manicured hedges, is the famous sunken rose garden. Here a formal layout of beds bordered by box hedges, a central flowering crabapple and gravel paths provide a setting for a magnificent display of classic roses from spring through to autumn.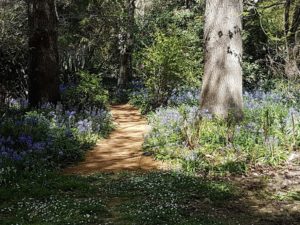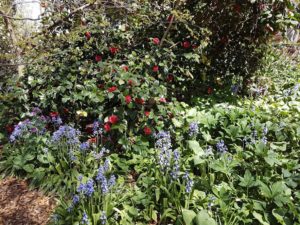 The Terraces
I enjoyed walking past blue bells on either sides of the garden. The place is very tranquil and I never tire looking at the flowers around me. There are also rose bushes that add vibrant colour to the surroundings amidst the blue bells.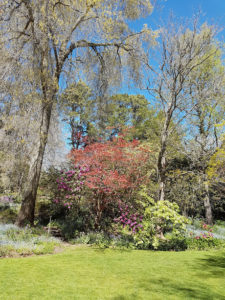 Milton Park 
Milton Park started off as a property for breeding fine cattle. It was purchased by Anthony Hordern in 1910. In 1960, Milton Park was bought by King Ranch Pty Ltd. This company was responsible for the import of Santa Gertrudis Cattle to Australia in 1952. Cattle breeders from all over Australia converge at this annual sale of top quality stock at Milton Park annually. 
The property has been converted to a hotel in 1984. The place has been refurbished and the garden has been restored to its former glory.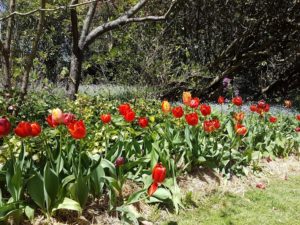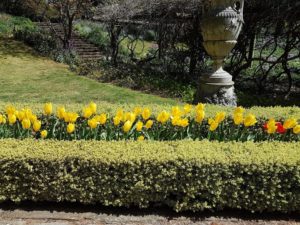 Strolling in the garden feels like what the landed gentry in England must have enjoyed doing in the 19th century. Sans parasols and calico dresses, the stroll was leisurely and everything I saw was a feast to the eyes. There was bound to be something of wonder in little pockets of the garden that is full of character.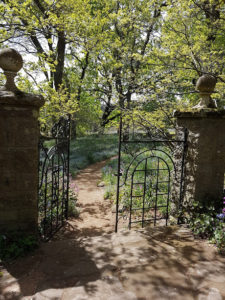 The blue bell wood was like a whimsical place tucked in the far corners of the earth. It lay in the shadows of huge trees and a fallen log or two added some character to the place, replicating the scenery at the woods.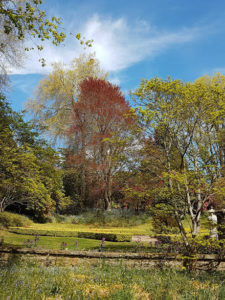 The rainbow lawn was dotted with colorful tulips. It was a welcome sight and punctuate the monotony of greenery with colour.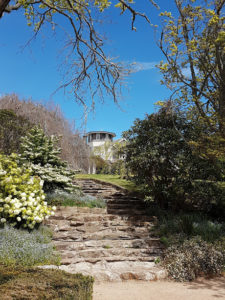 We could have spent hours in the garden as the tranquility and beauty were therapeutic. By the end of the walk, we felt refreshed and calm. We were ready to venture to our next destination. 
New Age Tips 
Have you ever wondered why gardening is so therapeutic for many? Just being amidst greenery is an antidote for the soul. Doing mindless work like planting, weeding and watering takes your mind off your worries. Harvesting your fruit or herbs or vegetables gives you that unexplainable satisfaction. 
If you live in a unit or apartment and are fortunate enough to have  a balcony, consider starting a vertical garden. It is not only practical and utilises the amount of space you've got, but is also cathartic. 
If you live in a house with a garden, consider planning a layout for a small garden. Before long, you'd be into it and find deep satisfaction in growing your own plants. 
If you have neither a balcony or or space for a garden or garden visits to the highlands are not on the cards, try scoping out gardens or parks in your area and take walks every now and then. You will find that such a simple activity does wonders to your body, mind and soul.