SHITAKE MUSHROOMS, BEANSPROUTS AND SPINACH FILLING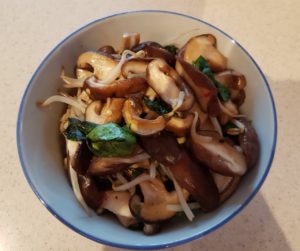 Vegetables need not be boring. If you prepare it the right way using the right condiments, vegetables taste great. On most weekdays, I'd prepare a sandwich or wrap for lunch in the mornings using prepared filling. One of my favourite fillings is shitake mushroom, beansprout and spinach combo filling that can be stuffed in wraps or in sandwiches. This will be the base ingredients and I will add others that take my fancy such as sweet potatoes, avocadoes, tomatoes, cucumber, just to name a few.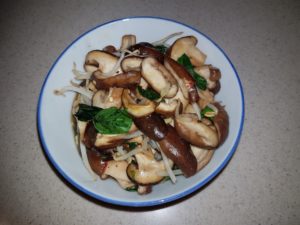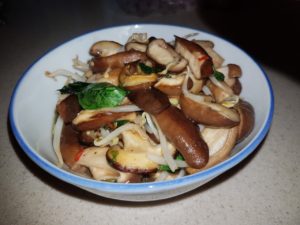 Ingredients 
2 packets of shitake mushrooms, sliced
half a packet of bean sprouts 
half a packet of spinach
3 tbsp oyster sauce
pepper to taste
fresh chilies, sliced or chili flakes
some butter or margarine
Method
Add some butter or margarine to a hot pan over medium heat. Let the butter or margarine melt. 

Add sliced shitake mushrooms to the melted butter or margarine, mix thoroughly with a wooden spoon or spatula and let it sweat and soften. 

Next, add beansprouts and then spinach. Mix them thoroughly till the spinach wilts. 

Add oyster sauce and mix the ingredients well. 

Add pepper to taste and chili flakes. If you prefer to add fresh chilies, you should add them after the mushrooms have softened. 

Remove ingredients, place them in a bowl and let them cool. 
This filling should be placed in the fridge. It lasts a week. While it is great to be used as fillings for wraps or sandwiches, it can also be served with rice. Enjoy!