Search Results for:
thai pineapple fried rice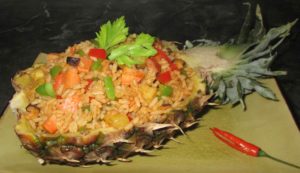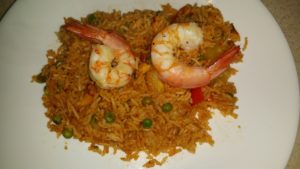 I posted a recipe entitled Special Thai Pineapple Fried Rice some time ago.This time I'd like to share the Special Thai Fried Rice – Improved version. Why the improved version? That's because I've added a few ingredients and altered the cooking method to produce an even better tasting dish.

This dish was one of my favourites and I dare say, tastes better than the ones served in the restaurants I've dined in. If you're entertaining, a fun way of serving is to load the rice up in half an empty pineapple. Your guests will appreciate the concept and enjoy the dish even more.
So, last night, I tried am improved version of the same dish, this time adding more Thai flavours to it. The result is phenomenal. The kaffir leaves added an extra kick and a delicate Thai flavour.
The additional ingredients are just kaffir lime leaves, 4-5 red chilies and kecup manis or sweet soy sauce.
So if you refer to this post showing the recipe, you need to blend the following instead of chopping and frying them in the wok:
6 cloves garlic
1 cm ginger,chopped
4-5 red chilies
2 tsp dried shrimp
4 kaffir lime leaves
Add a little water and blend to form a paste. 
After frying the sliced onions till transparent, add the above paste and fry for a a good 5 minutes. Add the rest of the ingredients such as red capsicum, green peas and pineapple chunks. Then, add the rice and blend the ingredients and paste together with the rice. Now, add kecup manis or sweet soy to balance the heat from the red chilies. The rest remains the same. 
The flavour of the fried rice will transport you to Thailand. I got complements about this dish and am so pleased with my creation. The rice is moist in texture and the taste is a mixture of sweet, limey and spicy all rolled into one.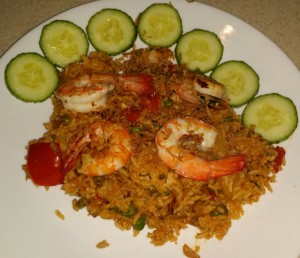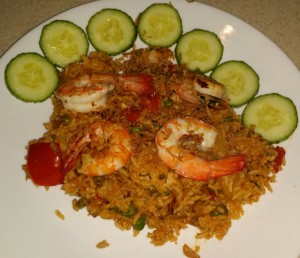 When you have leftover canned pineapple and rice, what could you prepare? Fried rice, I hear you say. Well…why not transform ordinary fried rice into something special? Thai pineapple fried rice is the perfect answer. Throw in some prawns and voila! You have a dish to impress your guests. It's not as difficult as you think. A short cut method and cooking trick is to use Thai red curry paste in a bottle. My favourite is Ayam brand which is not a challenge to find. Woolworths and Coles have them in stock.
Ingredients
leftover rice
6 cloves garlic, finely sliced
1 onion, sliced
1 cm ginger, chopped
200g shelled prawns
1 red capsicum, diced
canned pineapples, diced
pineapple juice
2 tsp dried shrimp, made into a paste
2 tbsp. Thai red curry paste
2 tbsp. green peas
A handful of cashew nuts
pepper
cucumber for garnishing
Method
1. Put your pan to a high heat and add oil.
2. Fry prawns till cooked and put them aside.
3. Next, lightly fry the cashews and leave them aside.
4. Heat oil in a wok and fry onions, ginger and garlic.
5. Add pineapples and green peas and mix well.
6. Add in shrimp paste and Thai red curry paste and dilute the paste with pineapple juice from the can.
7. Add the rice and mix well.
8. Add cashews and mix them into the rice before serving.
9. Garnish rice with coriander and add cucumber on the side.  
There you have it – special fried rice. The pineapple, shrimp paste and Thai curry paste create an explosion of taste, transporting you to the land of smiles. The cashews introduce an interplay of texture and crunch while the cucumber as well as coriander provide a refreshing after taste and cools off the heat.