Category Archives:
New Age Therapy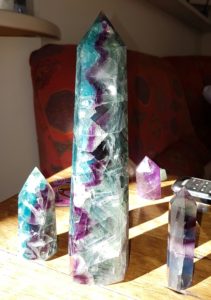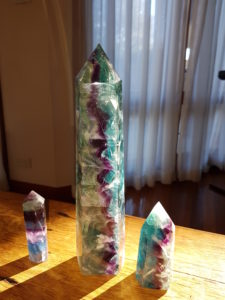 As a strong believer in the power of crystals, I have used crystals for various purposes and have felt its positive effects on me. In this blog post, I'd like to talk about rainbow fluorite, a stone that helps one to focus and clear confusion.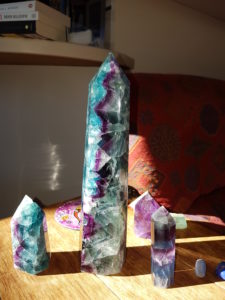 Aesthetically, rainbow fluorite is beautiful. As the name suggests, it has multi-coloured bands that appear like the rays of a rainbow. I keep one or two of rainbow fluorite generators near my laptop to help me focus while doing my work. Apart from its metaphysical properties, rainbow fluorite also makes beautiful ornaments. They are simply pleasing for the eyes.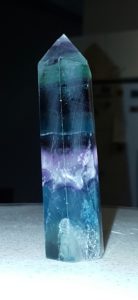 Interestingly, since rainbow fluorite works for me in terms of focus and clarity, keeping in on my bedside table does not help me sleep. It makes my mind active and thus I have to keep it out of sight to have a good night's rest. 

The above is my favourite rainbow flourite generator. It is biggest and heaviest I've ever owned and I can feel its strong positive energy radiating the surrounding environment. 
Rainbow fluorite isn't expensive. Small or medium sized ones are very affordable. Of course the more aesthetically pleasing and the bigger it is, the more exorbitant the price.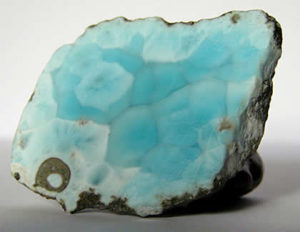 Source: Gem Select
Today, I'd like to share with you my experiences with larimar crystal. Have you heard of this special crystal? If you have not, I'm not at all surprised. This crystal is a special one that is rare. I have been attracted to this special crystal lately as I have anxiety issues. Carrying the right crystals have helped me to contain my anxiety and stay calm throughout the day. 
On hindsight, I have always been fascinated with crystals and have gradually been collecting crystal pieces for healing and their aesthetic properties. I have collected spheres, hearts, eggs, pendants and rings as well as raw specimens. I know this is crazy but it is an addiction that not only makes me happy but is beneficial metaphysically. I do reap its benefits and I will describe in detail what each of my favourite crystal brings. 
For now, I'd like to talk about larimar and the benefits I receive from wearing this crystal. In order to appreciate this lovely blue crystal, let's come to understand its origins. 
Origin of larimar

Larimar is a sky blue stone consisting of pectolite. It is found only in a mountainous, inaccessible area in the province of Barahona in the Dominican Republic. 
Interestingly, it is believed that Norman Rilling, a member of the U.S Peace Corps and Miguel Mendez, a Dominican found pieces of Larimar along the beach. They were puzzled as these pieces were not ordinary stones. It was hypothesized that the stones were washed up by the waves from elsewhere. However, the men then followed a river upstream and found more blue stones. Years later, the blue stones were traced to its source – in the depths of a dead volcano. The name of the stone was concocted by Mendez. It was a combination of his daughter's name Larissa and the Spanish word for sea, Mar. Interesting huh?
It is now known that larimar is produced by volcanic movement, when hot gases push crystallized minerals up through volcanic vents. Through the process of soil erosion, some pieces broke off near the crater of the dead volcano and were washed by rainfall. They got deposited into the river and got washed by waves when the river reached its mouth. Such stones then got deposited along the beach. 
In order to mine and extract larimar, the miners must first identify the vent and dig deep, as deep as 300m into the old volcano. During the cyclone season, mining halts for the time being. Larimar for that reason, is found in small quantities and can be expensive. Local miners sustain their living from mining for these precious stone and make a better income than previously despite the risk that their job entail. For that reason, I'm thankful for their contribution to crystal collectors and those in need of healing, like myself.    
Properties 
Larimar is said to enhance communication. It is beneficial to those who use their voice in their career such as teachers and singers. It strengthens the voice and soothes the nerves. It also makes one more connected with nature.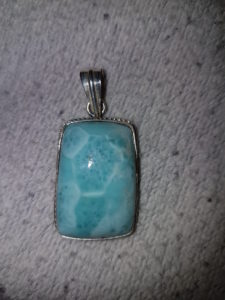 My experience 
I wore a larimar pendent yesterday and on hindsight it draws me towards nature. Here is my story. So long story short, I took a trip up the Blue Mountains yesterday. I've been wanting to travel to the mountains by train but have procrastinated. It took 2 hours for the train to wind its way to Katoomba, a small mountain town. 
I had breakfast and coffee when I arrived there as I was famished after the long trip. I was disappointed as the cafes I wanted to visit were closed that day. Anyway, after breakfast, I decided to window shop. I hopped into book shops and curio stores and left the shops disinterested. I then made my way to a vintage emporium. I was bored within minutes. Across the road, was Mr Pickwick's Fine Old Books that sold knick knacks and second hand books. I stepped in, expected to be enthralled. This store has numerous good reviews on Tripadvisor. However, I ambled along its alleyways of vintage collection, clothes and books feeling dis-spirited.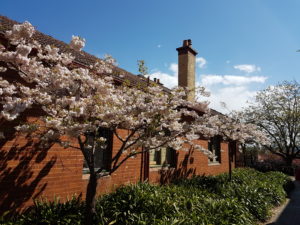 I then decided to hop onto the train and alight at Leura, a stop away. Leura is a quaint village known for its eclectic shops. Shop after shop I walked into. I browsed products on sale without interest. I guess I wasn't entertained by crass commercialism.  I then walked out of the village after having a second cup of coffee for the day and not so fantastic banana cake.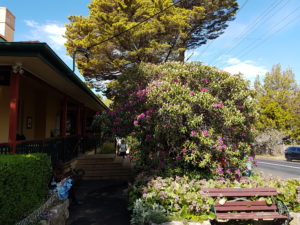 Low and behold. My feelings gradually changed. I felt lighter when I saw cherry blossoms and other flowering plants along the road, flanked by quaint houses. I then unwittingly made my way to Bygone Beauties, a curio chop and cafe I've been to years ago that is known for its Devonshire tea and tea pot collection.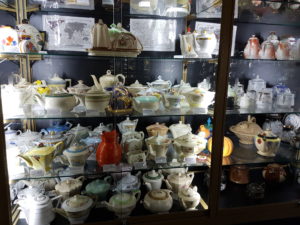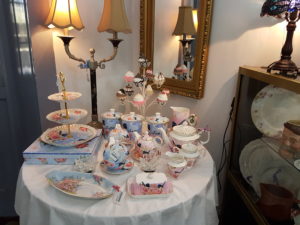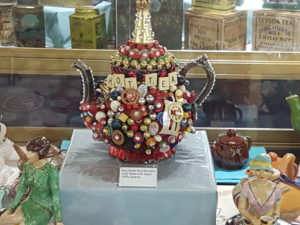 I was gobsmacked. I spent about half and hour marveling at the tea set collection over the ages and from various continents. The shop layout has changed. It now has a museum corner displaying all sorts of tea pots and tea-related paraphernalia. It was amazing. When I finally stepped outside, I took in deep breaths of the fresh mountain air and the soaked in the colourful sights of flowers. I was drawn by nature. I believed that was the effect of larimar. It draws one to nature and a sense of wonder .I felt happier being amidst the trees and colourful flowering plants. That was the highlight of my day. Looking back, I wish I could see more of the mountain views and the cascades that snake their way through its lush vegetation. 
Time did not permit. Alas, I had to take the train home and jostle with the commuters.  
To determine if a crystal works for you, observe your feelings and their triggers throughout the day and record them. Identify any consistencies or disparities when using or not using them. That way, you'll know if the crystal works for you. 
Have you got similar experiences with larimar? I'm more than happy to read about your take on it.