Category Archives:
Novelty Gadgets and Products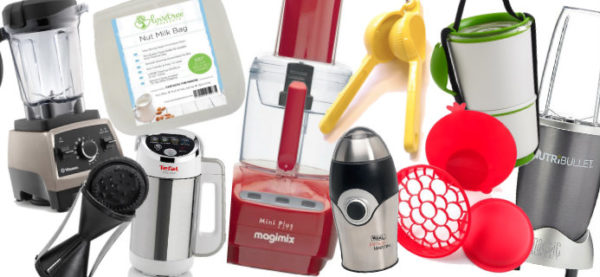 If you're proud of your kitchen and spend plenty of time there, chances are you would be on a look out for groovy kitchen gadgets that are practical yet up-to-date. If such gadgets help you prepare your food or beverage in the quickest time possible, they should be in your priority list of gadgets to grab your hands on. These days, new kitchen gadgets are plentiful in the market. They can be tempting to buy, but before you do, think of whether such gadgets will be really useful to you and make sure you'd use them often enough. 
Below are 6 groovy kitchen gadgets every home owner would love to own:
  

Electric egg cooker
This electric egg cooker will be a much loved appliance especially if you have a big family or regularly have overnight guests. Just place up to 6 eggs in the compartment, choose soft, medium or hard option and voila…you eggs are ready just as you like them. If you prefer poached or omelettes, this gadget is the one to prepare it for you.  This groovy apparatus comes with a measuring cup, shell piercer, poacher tray and omelette bowl. How cool! That helps sort out your eggs for breakfast. Just focus on the toast and coffee. 
2.  Milk Frother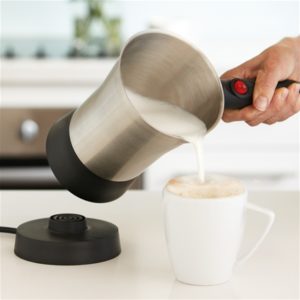 Imagine creating frothy cafe style  cappuccinos, hot chocolates and lattes at home! This milk frother comes in the form of a cordless jug that heats and froths up to 300 ml of milk into a thick, delicious foam so you can treat yourself and your family to delicious frothy coffee or hot chocolate. It's easy to use and clean, so that means your time can be saved. 
3.  Adjustable Pastry Set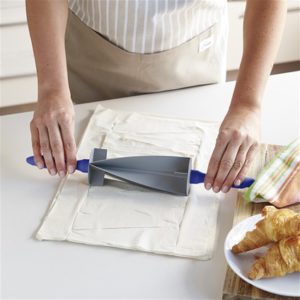 If you enjoy preparing pastries, this novelty adjustable pastry set is a dream to own. It is not only a rolling pin but also a croissant and pasta cutter. Whats more? The rolling pin rolls pastry to four precise, pre-set thicknesses – 2, 4, 6 and 8 mm. Preparing croissant and pasta will be painless using this set. Take your baking to a whole new level. 
4.  Spiral Slicer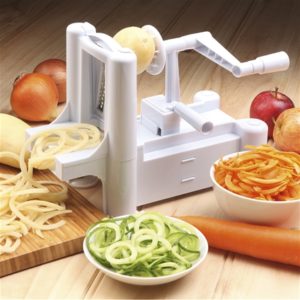 Achieve the recommended servings of vegetables per day with this awesome spiral slicer. This cool gadget turns vegetables into spirals and allows you to create delicious healthy vegetable spaghetti your family will love. Works well with fruit like apples and pears too for fruit salad or garnishing. 
5. Multi Purpose Kettle Tipper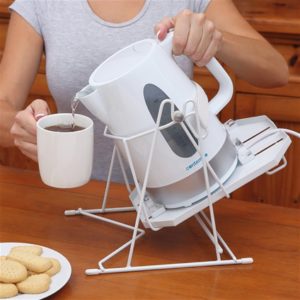 If your kettle is too heavy and cumbersome to pour hot water from, use this kettle tipper to make pouring effortless. This apparatus comes with a strong metal frame and a touch fastener to hold the kettle in place and a back stop to prevent spills.
6.  Herb Drying Rack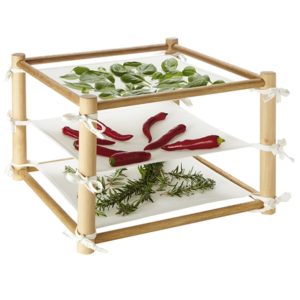 If you grow your herbs, you may want to grab hold of this neat herb drying rack. You'll have herbs to use all year round.  This rack comes in 3 tiers, so you can dry different herbs on each tier. Simply spread your herbs or chilies over the cotton fabric and circulating air will dry them. Forget about messy bowls lying around the kitchen counter. This herb rack will fit in neatly in a corner. The cotton fabric is easy to remove for washing. 
These groovy kitchen gadgets will be every home owner's dream to have. The are functional, convenient to use and saves time and hassle. Preparing food will be effortless and something to look forward to with these cool apparatus.  
Disclaimer: This post contains affiliate links, which means that if you click on one of the product links and make a purchase, I'll receive a small commission but it is at no extra cost to you.