Category Archives:
Novelty Gadgets and Products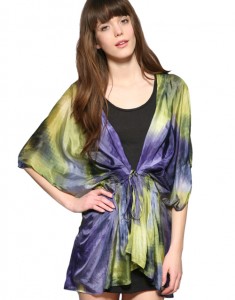 Kaftans and tunics are chic, stylish and comfortable to wear in the warmer summer months. They come in all styles, lengths and colours and can be worn with pants, a skirt or on its own. The price of kaftans is determined by its material and quality of workmanship. Satin, silk or chiffon kaftans are costlier than its cotton or polyester alternatives.
Tunics and kaftans are long, simple, and have varying sleeve lengths. Tunics can reach up to anywhere between the hips and ankles, while kaftans usually go down to the ankles, though shorter kaftans are becoming fashionable. Tunics were first worn by the ancient Greeks and Romans, while kaftans originated in Persia. While both garments were mostly used by men in previous centuries, today they are popular among women as fashion statements. Tunics and kaftans are usually made of cotton, silk, satin, wool, or similar natural fabrics.
How to wear tunics and kaftans
Tunics and kaftans come in a variety of designs, colours, and fabric types, and their loose cut is perfect for hiding problem areas such as the waistline and the thighs. However, with the right accessories, tunics and kaftan can create feminine and shape-enhancing outfits. This is why tunics and kaftans are among the most versatile garments for women. It is important to know how to combine tunics and kaftans with other items such as a chemise or pants or slim skirt to create a variety of outfits for casual wear, beach wear, and even formal wear that can be adapted for any occasion.
Tunics and Kaftans as Work Attire
Tunics and kaftans can look casual due to their stylish design and elegant patterns. However, you can choose tunics and kaftans that come in slim long sleeves instead of flowing kimono sleeves, suitable to be used as work attire by most women. The trick to portray the professional look with a tunic or kaftan is by combining them with other items that look professional. For example, wearing a hip-length tunic or kaftan with a black pencil skirt, a classical jacket, and a pair of high heels can make the wearer look chic yet professional at the same time. However, it is crucial to ensure that the tunic or kaftan is not too transparent, as it would make it too revealing, deeming the outfit unprofessional for work.
Tunics and Kaftans as Casual, Weekend Attire
Kaftans and tunics that come in kimono or butterfly sleeves or umbrella sleeves at the tip are suitable for casual and weekend wear. They provide a more relaxed style suitable for shopping, picnics or family gatherings due to its loose cutting and stylish designs.
Here are some kaftan and tunic styles you can spot in summer for a relaxed yet stylish look.
Picture courtesy of http://www.0cm.com
The above kaftan is elegant and very comfortable. It is just the right length to wear on its own. The material is soft and flowing, giving the wearer a feminine touch.  This kaftan is ideal for weekend wear outdoors or indoors.
Picture courtesy of http://www.stylingyou.com.au
The above tunic goes well with pants or skinny jeans. The butterfly sleeves add a touch of elegance to the wearer. The loose kaftan gives the wearer a cool and non-clingy feel in summer. It is perfect for dress down Friday office wear or casual activities in the weekends. It is also perfect to wear this Christmas if you are lucky enough to be in the warm or tropical climate zone.
Picture courtesy of http://i.ebayimg.com
The above long-sleeved tunic is perfect for party wear or weekend day wear.   The tip of the sleeves umbrellas out to give the wearer a feminine touch. Choosing the right kaftan that flatters the figure of the wearer is not difficult if you select the right cutting, size and material.
Picture courtesy of http://img.thesun.co.uk
The above tunic has an alluring ethnic look. The material is light and soft, providing comfort to the wearer on hot summer days. The long sleeves give the wearer a smart causal look. This outfit looks great with long or three quarter pants or jeans.
Related articles