Category Archives:
Product Reviews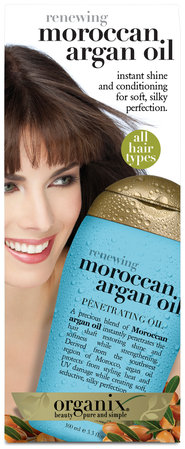 My hair has been limp and brittle with split ends due to many years of re-bonding (permanent straightening) and colouring. I've tried many hair care products including various leave-in conditioner but my hair condition remains the same until I stumbled on the Organix shampoo and conditioner range. The ones I've tried (Coconut Milk and Brazalian Keratin Therapy) work well for me so far. My hair texture has gradually improved and has a noticeable sheen. Now, my split ends are less noticebale ever since I've applied this special ingredient to my hair- the Moroccan Argan oil.
What's argan oil? Produced from the nut of the argan tree, Argan oil is one of the rarest oils in the world. Suitable for hair prone to frizz or coarseness, it is packed with Omega 3, fatty acids and Vitamin E which improves limp and dull hair.
Traditionally the local Berber women (indigenous women of North Africa) collected the seeds and pressed them to obtain the Argan oil for domestic use. This was a laborious process taking about 12 – 20 hours of hand processing to produce one litre of Argan oil. Oil produced by this method will keep for 3 – 6 months because it has extremely high vitamin E levels and is considered oxidatively stable.
Interestingly, Moroccan Argan oil is in the top ten list of beauty essentials. It is no wonder then that Moroccan Argan oil is a sought-after product in the beauty industry these days.
Let's take a look at the top ten essential beauty ingredients:
1.Morocco: Argan oil -This antioxidant-packed oil is great for hair and skin, and it absorbs much more easily than common skin oils like apricot and avocado. Argan oil is exclusively found in Morocco.
2.China: Camellia oil – Camellia oil is one of the most common cooking oils in southern China, but it's also renowned for its ability to prevent stretch marks and discoloration.
3.Mexico: Tepezcohuite – The bark of this tree has tons of astringent tannins in it, making it great for preventing infections and keeping scars from forming.
4.The Dominican Republic: Garlic – It has antifungal and antimicrobial properties.
5.India: Neem – It is great for healthy hair.
6.Japan: Sake – Try a sake bath. Sake is high in kojic acid and enzymes that soften skin and help reduce hyper-pigmentation.
7.New Zealand: Manuka honey – People have been using honey for its antimicrobial properties (and its deliciousness) since prehistoric times. The Kiwi type of honey, however, is even better as an antibacterial and antimicrobial than the regular kind.
8.Ghana: Black soap – This great Ghanian soap is legendary for its gentle cleansing properties and skin-softening abilities. It's made with plantain skins, which have loads of vitamins A and E, and moisturizing shea butter.
9.France: Milk – It is full of gentle lactic acid, which exfoliates and softens without the harshness of stronger acid types. Pour some fresh whole milk or cream into your bath along with honey or lavender to get a gorgeous glow.
10.The Amazon: Passion flower oil – Passion flower oil, aka maracuja, has been used in the Amazon for thousands of years because of its anti-inflammatory abilities, but it's also high in fatty acids and vitamin C.
Now Argan oil is gaining popularity as a "miracle ingredient" in the Western beauty product industry. Because it is rare and expensive, it is often referred to as fluid gold. If you'd like a nice, inexpensive alternative to a pure argan oil or another Moroccan oil salon product, Organix renewing Moroccan Argan Oil penetrating serum is the product to try. This product contains dimethicone, cyclomethicone, linseed extract, among other ingredients, which does not qualify for its association with the pure Moroccan Argan Oil product range. If you're looking for shiny, manageable results, Organix renewing Moroccan Argan Oil penetrating serum will work for a fraction of the price of pure Moroccan oil products.