Category Archives:
Pure Indulgence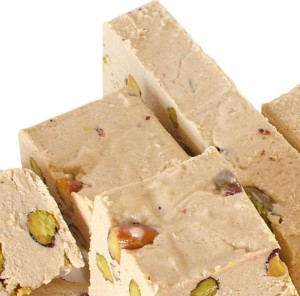 I've fallen in love. Oh….yes! I'm in love with halva. I've had my first taste of halva when I was a teen but its intoxicating sweetness brought back my cravings for it last year when I was offered a morsel of it containing chocolate. Then I had this sensuous interplay of the palate again with my beloved halva last Saturday. It seemed we were fated to meet. You guessed it right. I stumbled head over heals with it. This time it was even better. It has a dark chocolate center that oozes out of its creamy tahini body and is peppered with almonds and pecans.
The surprising thing was I wasn't looking for it. I stumbled upon it – at Sonia's International Foods at Willoughby. I entered the shop and let my eyes feast on all things exotic – nuts, spices, halva and such. It was like being in Alladin's cave where were goodies stacked on every shelf. I was flipping over boxes of commercially made halvas of all sorts when the fairy god mother, the shop assistant, asked what I was looking for and beckoned me to the counter when I couldn't decide. There…low and behold was the biggest halva I had ever seen. It was like one enormous cake. The lady cut a small chunk and urged me to try. The result….ohhhhhhhh that melt-in-the-mouth feeling. The sweetness and creaminess of the tahini blended well with that melting dark chocolate. The crunchiness of the nuts added texture and richness to the whole halva eating experience. It felt like being transported to an exotic land, where honey oozed from honey combs and nuts could be picked from the ground.
I've got a slice left and hope to savour the halva bit by bit while it lasts. I've discovered it is actually quite simple to prepare a halva, a chocolate centered halva with nuts to be precise. It's main ingredient is hulled tahini or sesame seed paste. The rest is sugar or honey and nuts. I will try my hands at preparing it in April, I hope. So stay tuned. Meanwhile, allow me break my halva slice and bite into a chunk, slowly savouring the sweetness and letting it linger on my tongue. Oh…forget about chocolate or cake for awhile. My deliciously divine halva will satisfy my sweet cravings for now.