Tag Archives:
pesto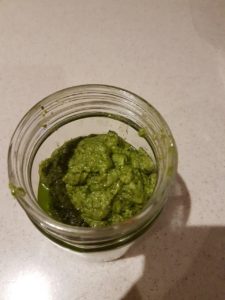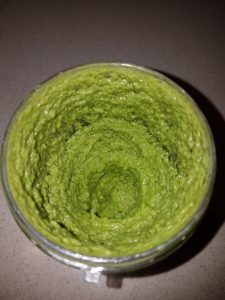 Last Sunday, I prepared pesto using the Nutribullet in two goes. I harvested a bowlful of basil and half a bowl of parsley that grow thick and wild in the herb garden. Since the Nutriibullet is small, I split the ingredients into two and blended the first batch. After the first set of ingredients had been blended, I repeated the procedure with the second set of ingredients. This worked just fine.  The pesto easily filled up 3/4 of a bottle.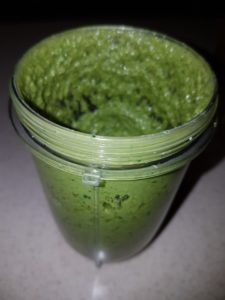 Ingredients
One bowl of basil
Half bowl of parsley
4 cloves of garlic
3/4 cup pine nuts
a handful of raw unsalted cashews
3/4 cup Parmigiano-Reggiano cheese, grated
extra virgin olive oil
Method 
Grate cheese and set aside.

Blend basil, parsley, garlic, pine nuts and cashews in Nutribullet. 

Add olive oil every now and then, until all the ingredients turn into paste. 

If paste is thick, dilute it further with more olive oil until it reaches desired consistency. 

Transfer paste from Nutribullet capsule into a sterilized 

bottle.

Store in fridge and use pesto when required.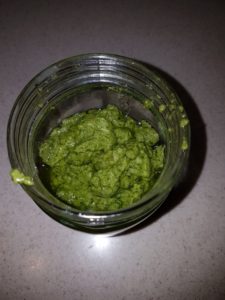 Pesto is great for slathering on wraps and sandwiches as it adds depth to the taste. It can also be used as pasta base or as a dip.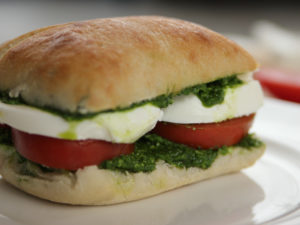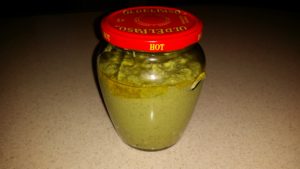 I've not craved for pesto in a long time but the sudden urge to make my own pesto was triggered by a humble sandwich I bought on Saturday. Yes! It's funny how a sandwich can trigger such a yearning that propels me to create my own special creamy, nutty pesto. I wanted to recreate the pesto for the one that drove me to unleash my culinary talent tasted acidic and sweet. 
So off I went to my herb garden to gather some basil. Might as well put it to good use or else they will wither. Being adventurous I added some parsley and coriander to give the pesto an added hint of freshness. Cashews and pine nuts also came into play to add depth of flavour. The result is phenomenal!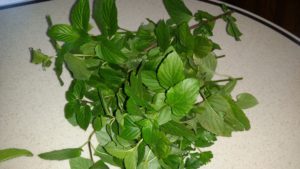 Ingredients
1 bunch of basil
handful of parsley
handful of coriander
1/2 cup shredded Parmigiano Reggiano
1/4 cup roasted cashews
1/2 cup roasted pine nuts
1/2 juice of lemon
salt
olive oil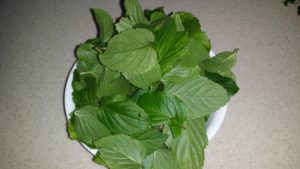 Method
Separate the basil leaves from the stalks and wash them.

Do the same for the parsley and coriander.

Roast pine nuts and cashews. Se aside.

Blend basil leaves, parsley and coriander.

Add some olive oil, lemon juice, cashews and pine nuts and blend them thoroughly till they form a creamy paste.

 Add  shredded Parmigiano Reggiano. And continue to blend.

Add salt to taste.

Mix the paste to ensure that the ingredients blend well in between intervals.

Spoon out the paste into a steralised bottle.

Add olive oil on top to add moisture before closing the lid.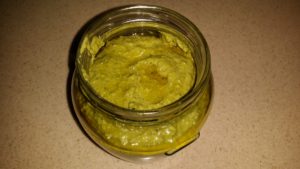 I made the pesto in batches as my Nutribullet blender cup is small. I added half the basil, parsley and coriander, some Parmigiano Reggiano, some cashews and pine nuts and some live oil and blended till a paste is formed. Then, I added the remainder of the basil, along with what was left of the other herbs, Parmigiano Reggiano  nuts and repeated the process. Some olive oil will need to be added to this paste to add moisture. If the paste is too thick, I suggest adding a bit of water to facilitate the blending process. Finally, when the two batches of ingredients have been thoroughly mixed, add salt followed by lemon juice. Blend again till all ingredients form a well-mixed paste. Keep on tasting the paste after adding additional ingredients such as nuts and lemon juice till you're satisfied with the flavour. Observe the consistency as well to discern whether you need to add extra water or olive oil. A substitute to water is vegetable stock.
There you have it! Your very own creamy, nutty pesto. Pesto is best used in pasta as well as sandwich spread. Add cucumbers, tomatoes, avocados  and rocket leaves to your sandwich and enjoy. Seriously, pesto adds flavour to a plain sandwich. So instead of butter, think of pesto.
So my verdict….a creamy, nutty home-made pesto you wont ever get anywhere on the supermarket shelves. The freshness of the basil, parsley and coriander leaves a refreshing taste on the palate and the nuts provide depth of flavour. The Parmigiano Reggiano adds cheesy sharpness to the pesto while the lemon juice adds some sexy tang to it.