Tag Archives:
salmon pesto pasta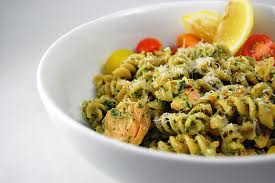 Many people think that pasta is heavily laden with carbohydrate. However, adding fish and vegetables to it makes it a well-balanced and filling meal. This is a special pasta recipe of mine created on one of my creative moments. I used salmon for protein and mushrooms for vitamins in the dish.  To remove the blandness of fish, I used soy sauce and cayenne pepper to enhance the flavour by adding some zest. The flavours of the orient in green chilli and kaffir lime add zing to the dish.  If you can't find kaffir lime, don't worry about it. You can add lemon skin as an alternative. One thing to note is not to add too much pesto. Too much of it will sharpen the taste hence drowning the hotness of the mild green chilli and the tanginess of the kaffir lime. You can also replace green chillis for red ones for extra kick. All in all, the dish makes an awesome treat for family and friends who drop in for a meal. Enjoy!
Ingredients for salmon marinate
3 tsp soy sauce
1 tsp cayenne pepper
4 tbsp cooking oil for frying
Ingredients for pasta
2 tbsp olive oil
200g macaroni
1 onion, sliced
4 cloves garlic, chopped
1 green chilli, chopped
6-8 mushrooms, sliced
3 tsp pesto sauce
kaffir lime, grated
1 fillet cooked salmon, cut
Pepper
Parmesan
Method
Marinate cut salmon in soy sauce and cayenne pepper for 30 mins.
Fry salmon in hot oil.
Cook macaroni in boiling water with 1 tsp olive oil and a dash of salt till al dente and strain away the water in a colander.
Heat olive oil in a pan.
Fry onions till transparent.
Add garlic and fry for 1 minute.
Add green chilli and mushrooms and saute.
Add cooked macaroni and mix well.
Add pesto sauce and mix through.
10.  Add pepper to taste.
11. Grate some kaffir lime skin to add zing and mix well.
12. Add salmon pieces and parmesan cheese to taste and mix thoroughly.
13. Serve with parmesan cheese as topping.
[shopeat_button]