Tag Archives:
special aglio olio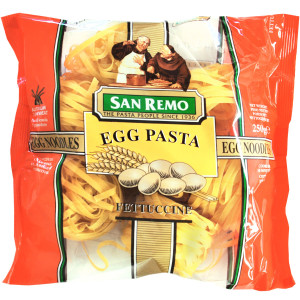 You'll agree with me that aglio olio is a very simple, fuss-free dish. Though only a few ingredients are used, the taste is satisfying to the palette. I've reinvented the aglio olio to enhance its flavour and appearance. In this dish, I've added pine nuts for texture and some greens, soy and grated parmesan for flavour. There are so many egg pasta available in the market. For this dish, I've chosen to use San Remo Fettuccine Egg Noodle.  
Ingredients
1/2 packet fettuccine 
olive oil
1 onion, sliced
6 cloves garlic, chopped
1 cup mushrooms, sliced
3 fresh tomatoes, sliced
100g fresh spinach
a handful of pine nuts
1 cup frozen peas
grated Parmesan
1 green chili, sliced
1 tbsp soy sauce
ground black pepper
Method
Cook the fettuccine in salted, boiling water till el dente. Drain and set aside.

Roast pine nuts in a small and set aside.

Heat olive oil in a pan and fry the onions till caramelised. 

Add garlic and mushrooms. Cook till mushrooms soften. 

Add chilies, tomatoes, spinach and peas. Mix well. 

Add fettuccine and season with Parmesan, black pepper and soy. Mix well. 

Lastly, add the pine nuts. Mix the ingredients together to ensure they blend well. 

Serve while its is hot and sprinkle some grated Parmesan for that added kick.
I use grated Parmesan from Pantalica Cheese company. Its grated cheese is flavoursome and makes good pasta topping or seasoning. The dash of soy enhances the flavour of the dish and adding some greens like spinach and peas transforms its appearance and improves its nutritious value. Bon appetite!