Tag Archives:
special fried vegetarian noodles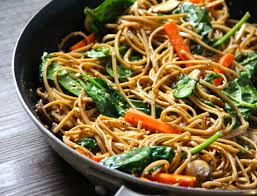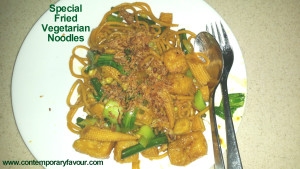 Fried noodle dishes seem simple to prepare but a good memorable one involves thought and pre-preparation. The secret to preparing a tasty dish is to reuse oil that has been previously used to fry fish. This also works well with the juice of stir fry mushrooms. In this post, I will share with you the secret of preparing special fried vegetarian noodles. 
Ingredients
1 packet Hokkien/egg noodles
leftover oil used to fry fish
1 onion, sliced 
bak choy, chopped
spring onion, chopped
1 egg
baby corn, sliced into halves
puff tofu, cut into halves
juice of half a lemon
1 tbsp soy sauce
1 tbsp tomato ketchup
1 tbsp Hoisin sauce
1 tbsp kechup manis
fried shallots for garnishing
Method
Put noodles in a pot and pour boiling water over it. Drain the noodles in a colander after 3 minutes.  Set aside. 

Heat used oil previously fried in fish in a wok. 

 Add onions and cook till transparent. 

Add egg and break it up in the wok in the process of cooking, so it becomes scrambled in texture. 

Add puff tofu, spring onions, bay corn and bak choy.  Mix the ingredients thoroughly. 

Add soy sauce, lemon juice, Hoisin sauce and ketchup manis. Mix well.  

Lastly, add the noodles and mix them thoroughly till all ingredients blend together.

Serve noodles on a plate and garnish with fried shallots.  
The taste is simply delicious and texture of the noodles is moist and silky. You'd surely want to have a second helping. Don't feel guilty about it. Bon appetite!