Tag Archives:
Sushezi sushi maker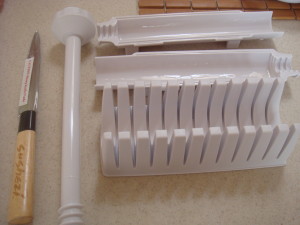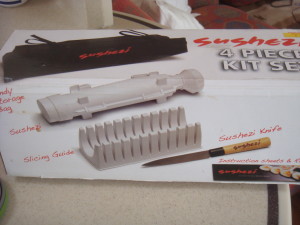 Making sushi used to be a chore and a very messy affair. Gone are days when the sushi mat had been a vital item in the sushi making kit. For in those days, without the mat, sushi making was regarded impossible. Nowadays, new inventions have made food preparation much less of a chore. Preparing sushi has never been more convenient in the kitchen. 
The Sushezi sushi maker makes it possible for sushi to be prepared even by less nimble hands. It comprises 3 items: the sushi roller (a cylindrical plastic that can be split into halves for the rice and filling to be compartmentalised), a cutting template and a knife.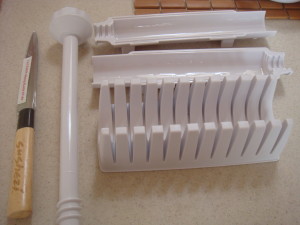 Pros 
The Sushezi sushi maker is fool-proof. The sushi roll comes out of the roller onto the Nori seaweed effortlessly. The roll emerges out of the tube nicely, forming tight, well-shaped cylindrical rolls. 
Figuring out how to use this roller is not rocket science. Learning how to use this device is as easy as ABC.
The kit comes with a cutting template which helps me slice the sushi rolls evenly, without any mess. Fortunately, there is no squished sushi slices so far. 
The kit is dishwasher safe. This makes cleaning easy and fuss-free.  
Cons
The instructions on the quantity of rice to be used should not be taken at face value. This needs to be trialed and perfected, depending on how many rolls you expect to prepare. 
If you've not used this kit for some time, you'd want to spend a few minutes on figuring how to use the kit. Initially, the use of the plunger rod to compress the sushi rice can be a bit tricky. With practice, using the plunger rod gradually becomes second nature.  
On the whole, I feel that the Sushezi sushi maker is one of the best innovative kitchen gadgets found in the market. Preparing sushi has never been so convenient. Out of a scale of 1 to 10, I'd give the Sushezi sushi maker an 8. 
Pricing for this product varies online as well as in local department stores.  
Stay tuned for sushi preparation tricks and recipes in my upcoming posts. 
Disclaimer: I do not receive any commission to write a review on this product. The content and opinions featured in this post are entirely my own, based on my personal experience using the above-mentioned product.