SAVOURY CHEESE AND SPINACH FILO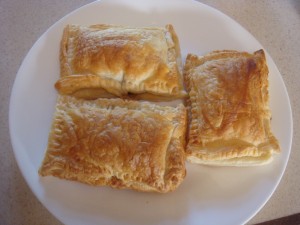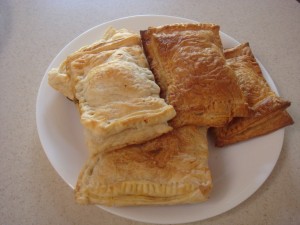 For savoury lovers out there, here is a recipe you'd like to try. It uses puff pastry which you can prepare in the comfort of your kitchen or if you prefer the more convenient method, the most practical way is to buy the sheets. Preparation time is one hour and a bit more if you are preparing more than 4 pastries. So, if you intend to serve the pastries to guests, ensure that you have ample time for preparation, which includes thawing the filo sheets. I would recommend aged vintage cheddar cheese for that rich cheesy flavour in comparison to ricotta or mild or medium cheddar which is rather mild and hence, unexciting to the palate.
Ingredients
2 tbsp cooking oil
4 sheets puff pastry
1 big onion, sliced
50g fresh baby spinach
200g vintage cheddar cheese, grated
2 tsp sweet paprika
pepper
50g butter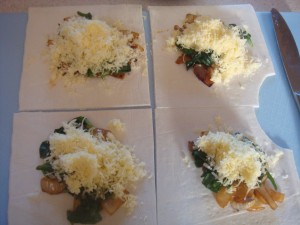 Method
1. Pre-heat oven to 180 degrees Celsius.
2. Thaw 4 filo sheets and cut them into 16 squares.
3. Grate cheese in a bowl.
4. Melt butter and grease tray for baking. Leave some for glazing.
5. Heat oil in a pan.
6. Fry onions till caramelised.
7. Add paprika and mix well. Remove and set aside.
8. Dry fry baby spinach till wilted. Add pepper to taste.
8. Place onions, spinach and cheese one on top of another on each square filo.
9. Brush the sides with melted butter.
10. Cover the topping with another filo square.
11. Fold in the sides and press with fork to seal securely.
12. Brush the top of each covered filo with melted butter.
13. Bake for 20 minutes.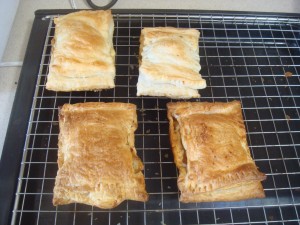 The verdict is that this finger food is suitable for breakfast, as opposed to the banana filled one which is more appropriate for afternoon tea. The fried banana filled filo is more moist on the outside compared to the ones which have been baked. I would propose frying the filo if you'd like to minimise the flaky texture of the pastry as the texture is dry. Use low cholesterol oil such as canola or grape seed oil for frying. The cheesy filling with the paprika caramelised onions is seriously rich and savoury. It is nicely balanced with the mildly seasoned baby spinach which tantalises your tastebuds at every bite. Enjoy!